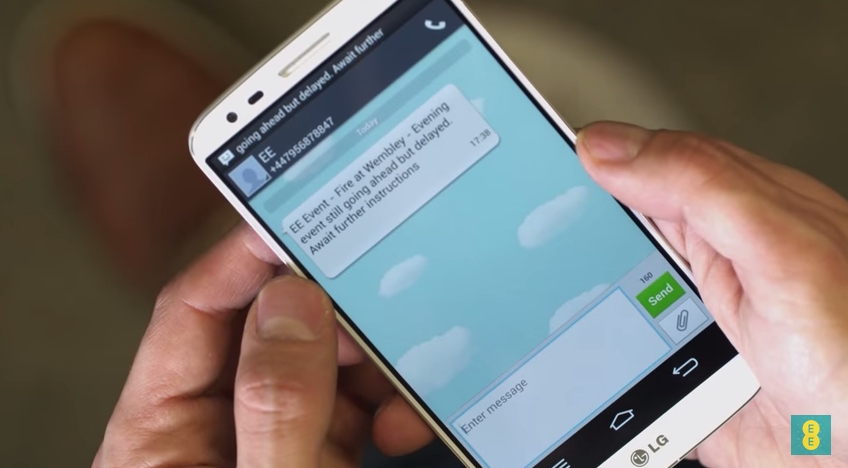 Enterprise Messaging is simply a way of sending large numbers of text messages to customers or employees. Any number of messages can be sent and it can be used for any number of purposes, from confirming a doctor's appointment, to advertising a sale, to communicating a change in shift patterns.
Why use SMS?
You might think it would make more sense to send an email than a text message, but EE has found that around 99% of SMS messages are opened, while surprisingly only around 22% of emails are.
On top of that 90% of text messages are read within three minutes and they're something which everyone is using heavily, with text messaging accounting for 37% of the activity carried out on a smartphone, a total of 129 billion SMS messages sent in the UK last year and 6 billion active SMS users.
So anything sent by SMS is more likely to be read and more likely to be read quickly than if it's sent by email.
What's special about EE's Enterprise Messaging solution?
EE isn't the only company to offer bulk SMS sending, but it has a number of advantages. For one thing its platform is designed to be easy to use, can be managed centrally and allows you to monitor data in real time and optimise future campaigns.
EE Enterprise Messaging is also secure, with all data stored in UK data centres and it can cater to your needs, with tailored support for whatever business type or size you have.
EE also offers a range of applications to further aid you. Web Messaging lets you send over a million SMS messages, pause campaigns or send messages in batches from any web browser.
Enterprise Messaging Reminder lets you automate appointment reminders, Enterprise Messaging Authenticator manages the issuing and validation of one-time passwords, Enterprise Messaging StaffSafe is an automated way to monitor and confirm the safety of remote and mobile field staff and Enterprise Messaging StaffMatch uses SMS to more effectively manage the allocation of staff to shifts.
E.ON case study
To give you a closer look at Enterprise Messaging in action EE has produced a video highlighting its work with E.ON.
As you can see from the video it allows E.ON to easily send out mass communications to customers, with messages tailored to different audiences.
Two-way messaging is also supported and you can customise where responses will be sent to within your organisation.
One of the big things E.ON uses Enterprise Messaging for is to remind customers when it needs a meter reading, allowing it to more accurately bill them.
Other things E.ON uses it for include reminding customers of when engineers are coming, to confirm when payments have been made and any other reminders or communications.
E.ON has also found that it's reduced operating costs, by reducing the number of things that require calls from its call centre.
Enterprise Messaging can also be beneficial for internal communications. In the video EE talks about an event it held at Wembley. Before the event a fire alarm went off in the kitchen and EE was able to quickly and easily communicate with staff and attendees that the event would still be going ahead by simply sending a text.
In short EE Enterprise Messaging makes mass communication cheaper, simpler and easier to manage, while ensuring staff and customers are likely to read your messages.