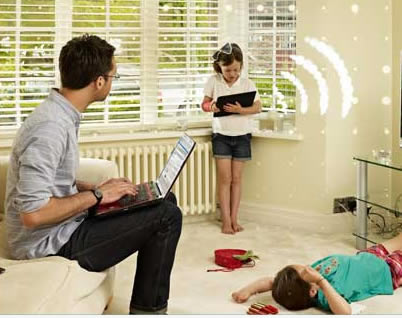 EE to Bring 4G Home Broadband to Rural Homes
Many rural areas are still stuck on fairly slow broadband connections, lacking the superfast speeds of BT Infinity and the like. In a lot of cases the connectivity gap between urban and rural locations has never seemed wider.
But that could be about to change, as EE is planning to launch the UK's first commercially available 4G home broadband service.
The network has already trialled the service in the Northern Fells in Cumbria, bringing speeds of between 8 and 12 Mbps to residents of one of the most remote areas in the UK and following the success of the trial EE plans to expand the service to other rural areas.
Useful reading : 4GEE Arrives In One Of UK's Least Built Up Areas
As EE already has 4G signals floating around much of the country, all that's really required to access EE's 4G home broadband is a compatible router, so hopefully the roll out to other locations should go fairly smoothly.
As yet EE hasn't confirmed which areas will receive its 4G home broadband service or what the pricing will be, but during the trial customers were charged £15.99 per month for 3GB of data or £25.99 for 8GB, so it may well stay at around that level.
That's pretty pricey, particularly when you consider that a 40GB BT Infinity connection for example is just over £30 per month, and that gives you speeds of up to 38 Mbps and includes line rental.
So while it is faster than current broadband connections in the area, at 8-12 Mbps it's also still nowhere near as fast as high speed broadband.
Still, it's a step in the right direction and with the governments own project to bring broadband to the countryside proceeding at a snail's pace this should at least be a useful stopgap.
However EE sees it as more than just a stopgap, as its chief executive, Olaf Swantee, commented that "we think 4G can become an affordable alternative to fixed broadband in rural areas...The government is fixated on fixed, but mobile can provide a solution economically."
Whether it really will prove economical all depends on how EE prices it. With specific pricing and plan announcements set for next month, we should know soon, but based on pricing during the trial and EE's expensive 4G mobile pricing we're not optimistic.