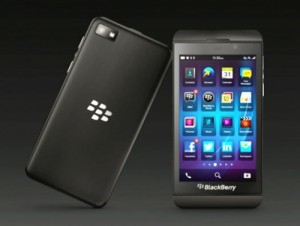 The Blackberry Z10 touch-screen smartphone was launched at the beginning of February and sales have exceeded expectations in the Canadian market, where it sold 50% more than any previous launch, and in the UK the Z10 has tripled Blackberry's previous sales results. A full review of the BlackBerry Z10 will be available on the 4G website shortly.
So it's great news that Vodafone are now stocking the new Blackberry Z10 and we're pleased to say it's immediately available. This is the first 4G ready phone in Vodafone's armoury, although you'll have to wait a little to take advantage of the whizzy speeds offered by 4G following Vodafone's success in today's 4G auctions.
Fortunately, Vodafone have been successful in bidding for the 800Mhz and 2.6Ghz 4G frequency spectrum. Licences will be granted by the end of March at the latest, with a full service being available within 6 months. 4G will allow download speeds of around 5 times current 3G speeds with speeds of up to a surprising 10 times in some tests under normal use.
What's on offer from Vodafone?
We've had a close look at the current deals from Vodafone, which start at £33 per month with a £129 up-front fee for the smartphone itself. This buys you 600 minutes of call time, unlimited texts and 500MB of mobile data.
If you don't want to pay for the phone itself then Vodafone offer their "Red Plan" for an additional £9. The resultant £42 per month buys you unlimited calls, unlimited texts, but only 2GB of data per month. This should be OK for most users, especially if you're in a WiFi hotspot, but unlimited would have been better, especially with the rate at which 4G will gobble up bandwidth.
Blackberry Z10 - where else can you get it ?
Three are stocking the Blackberry Z10. As with the Vodafone deals there is no immediate 4G connectivity, but Three have stolen a march by offering their Ultrafast network with speeds just short of 4G. This is immediately available and once the 4G network is launched later in the year switching to it will be free, ensuring fast speeds now and faster speeds later!
O2 have the Blackberry Z10 in stock and EE are currently offering the smartphone; of course their 4G network is already up and running. Three, however, are committed to improving on the value offered by both EE and Vodafone and are confident of a more attractive overall offering, albeit slightly delayed. The Ultrafast network mentioned above goes a long way towards mitigating this delay.