4G Mobile Broadband – what is it ?
4G mobile broadband has only arrived in the UK in the last few weeks and is currently only available with one mobile operator and in a limited number of cities. More on this below.
4G mobile broadband comes via a 4G mobile network and is an alternative to fixed broadband which is "piped" into your home via someone like BT or Virgin Media. These two technologies are called mobile broadband or fixed broadband respectively. 4G mobile broadband can be received by 4G mobile phones, laptop dongles, MiFi devices and tablets.
As the above names suggest one offers a fixed broadand connection and you are limited to where it can be accessed while with 4G mobile broadband it can be used anywhere in the UK as long as you have a 4G signal. The plus point here is that consumers or company workers no longer have to go "hunting" for a Wi-Fi location to download a file etc. as they can do it over 4G mobile broadband. The downside is that you use up your monthly 4G data allowance in doing so.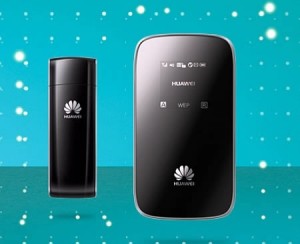 Some researchers say that 4G mobile broadband may take business away from the traditional fixed broadband market and we here at 4G.co.uk see this happening to some extent. Currently, 4G is up to 5 times faster than 3G and in a couple of years will be ten times faster. Then we see 4G mobile broadband challenging the fixed broadband market.
4G Mobile Broadband – how does it work ?
To connect to 4G mobile broadband you need one of three deices. These are your 4G mobile phone, a 4G dongle or a 4G mobile Wi-Fi device – sometimes called MiFi. The MiFi devices have a 4G SIM card and are powered by battery.
Your 4G phone can be setup to "tether" with say a laptop and you can surf away on your laptop at 4G speeds. The MiFi device acts as a 4G hotspot and you can wirelessly connect up to five other 4G enabled devices to work from the one MiFi device. The 4G dongle plugs into the USB port of your laptop and provides 4G mobile broadband directly onto your laptop.
Researchers are pointing to the fact that once 4G is established nationwide and speeds get better ( i.e. up to ten times faster than 3G offers ) then MiFi becomes an attractive option to small business users and households needing 2 or 3 4G mobile broadband connections. This is when the traditional "fixed broadband" market may be eaten into.
4G Mobile Broadband – how fast is it ?
This is a very difficult question. We know that 4G is currently around five to six times faster than 3G. Yet, the peak download speeds and latency rates as always can depend upon your location and how many people are currently using the 4G network in your area. 4G mobile broadband download speeds are being touted as 8-12Mbps on average and upload speeds are 5-6Mbps. This does mean that it won't be long before 4G can challenge the fixed broadband market.
Its not just all about speed. Latency on any mobile network causes delays typically in the processing of mobile network data. When connected to the 4G mobile network, latency is as low as 60 milliseconds and when connected to a 3G mobile network is as high as 125 milliseconds. This matters when you are looking to flick through loads of mobile web pages quickly and when playing online mobile games.
4G Mobile Broadband – where can I get it ?
Currently in the UK only one mobile operator is offering any form of 4G service. This is EE ( which owns Orange and T-Mobile ) who launched its 4G mobile network a few weeks ago, but only in 11 cities. Its early days for 4G and 4G.co.uk wrote about the 4G service in Manchester which was found to be lacking. However, we expect the roll-out of 4G to gather pace quickly, and in any case, the other UK mobile operators will be launching 4G around May to September 2013 when more choice will be available.
In the meantime, the only way to guarantee that 4G works in your area is to use EE's 4G mobile network coverage checker to determine if 4G is "live" in your area. You need to consider that you are not actually getting 4G mobile broadband but a partial 4G mobile broadband service. This is because 4G may work in Bristol but not in Bath, it may work in London but not in Slough, it may work in Glasgow but not in Motherwell and it may work in Cardiff but not Newport etc.etc.etc.