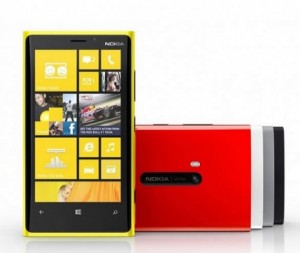 4G.co.uk have just started our 4G Nokia Lumia 820 LTE Review and this will be posted in the next 48 hours. Meanwhile, if you fancy a FREE 4G enabled Nokia Lumia 920 LTE smartphone then now's your chance.
EE ( which now owns Orange and T-Mobile ) are giving away 5 Nokia Lumia 920 LTE smartphones and tickets to the official launch party of the Nokia 920 LTE in London on the 28th November.
The competition is called #8WORDSTOWIN and involves responding to the Tweet EE have posted. The winners will be chosen by EE based on superfast with and epic novelty. The competition page can be found here.
Meanwhile, our Nokia Lumia 920 LTE Review by 4G.co.uk was posted earlier this month and can be read here. Our review concluded "The Nokia Lumia 920 is a 4G handset that's stuffed with all sorts of goodies" so it's well worth trying to win one via EE.