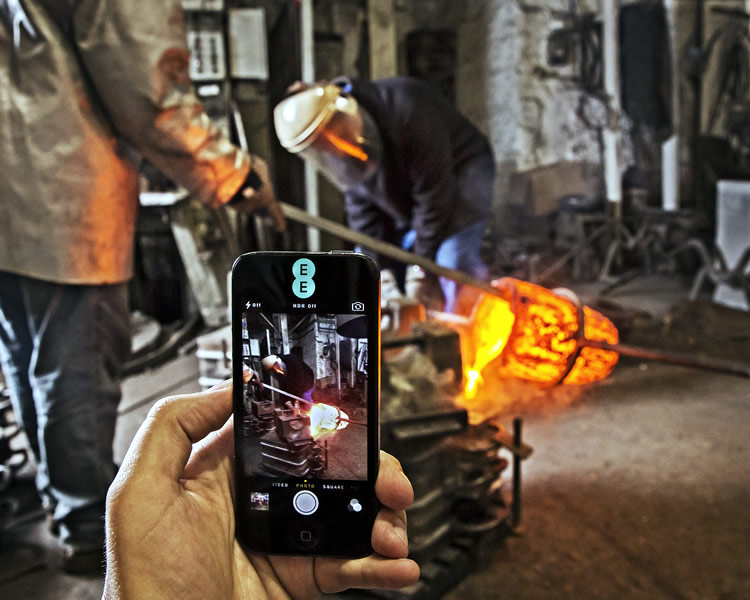 You might expect a business that's over 400 years old to be quite set in its ways, but in fact to survive for that long the opposite has been true, as evidenced by the fact that the Whitechapel Bell Foundry, Britain's oldest manufacturing firm, is embracing 4G.
The firm, which made Big Ben, as well as the bell in the National Cathedral in Washington DC and the bell in St Mary's Cathedral in Sydney, Australia, has joined EE's 4GEE Pioneer's program, which is designed to help UK businesses integrate 4G into their products and services.
In the Whitechapel Bell Foundry's case it's using 4G in combination with cloud storage on Box to upload and stream lossless audio of its bell sounds for use in offsite sales meetings.
Alan Hughes, director at Whitechapel Bell Foundry explains that "Customers increasingly ask to hear our bell sounds. Previously we've had to send CDs out by mail – and we'll usually haul a large selection to new business meetings so we can play them to prospects.
"But using 4G we can now quickly browse the full catalogue and stream high quality audio files of any bell from the cloud. This helps us bring our products to life in a way that we've never been able to before. Thanks to EE's help, this has had a big impact on our bottom line by boosting sales."
The foundry has also implemented a live video customer service helpline which can be accessed via 4G-enabled tablets, allowing the company's experts to troubleshoot problems in real-time anywhere in the world.
These initiatives have directly increased sales by 5% as well as reducing costs through increased efficiency.
"As we've been going since 1570, many will regard Whitechapel Bell Foundry as being old-fashioned, yet we're anything but," said Alan Hughes.
"4G has helped us modernise the way we do business, showing clients we're at the cutting edge of technology, rather than stuck in the sixteenth century. We're very proud of our traditions, history and achievements, but by using 4G to innovate our business processes, we're also able to move with the times at a rapid pace."
And the Whitechapel Bell Foundry is just one of a number of businesses which are finding 4G beneficial. Luxury Mobile Office, The Rib Man and Anthony Sinclair are all 4GEE Pioneers too for example.
Mike Tomlinson, director of small business at EE, said "Whitechapel Bell Foundry is an excellent example of a business that has survived for the last 400 years by embracing change. At EE we're seeing more of this innovative thinking from our 4G business customers as they look for new ways to outmanoeuvre the competition.
"They are transforming how they operate, using cloud services, social media and a wide range of business-focused apps and our 4G network. Even one of the UK's oldest and most established businesses is doing everything possible to retain a competitive edge, and that's what 4G from EE can offer. "