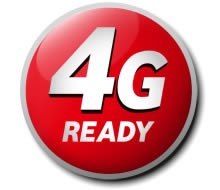 Along with EE, O2, Three and BT, Vodafone has come away from the 4G spectrum auction with a chunk of its own. In fact it's rather more than just a chunk, as Vodafone spent more than anyone else, managing to secure 2 x 10 MHz in the 800 MHz band, 2 x 20 MHZ in the 2.6 GHz band and a further 25 MHz of unpaired spectrum in the 2.6 GHz band.
That's a huge amount of spectrum, more in each band than any other company managed to claim. But it came at a cost- £790 million to be precise. Only time will tell whether it was money well spent, but for now it does seem to leave them head and shoulders above everyone else other than EE in the 4G stakes.
EE are the exception because they've already rolled out 4G, and because although they didn't spend quite as much on it in the auction, they also have access to the 1800 MHz band, theoretically giving them more spectrum overall.
Since the auction ended Vodafone have released a statement confirming their winnings, but one which is oddly non-specific regarding their 4G plans. Vodafone UK chief executive Guy Laurence said:
"We've secured the low frequency mobile phone spectrum that will support the launch of our ultra-fast 4G service later this year. It will enable us to deliver services where people really want it, especially indoors. This is great news for our customers. The next generation of mobile internet services will bring real benefits to both consumers and businesses."
See what we mean? Though since then they've acknowledged that they outspent anyone else at the auction, and released a subsequent statement on their site which gets a little more specific, claiming that:
"Our signal will travel further indoors than any 4G signal available now - all things being equal. And we'll bring our signal to a host of new areas through our commitment to 98% indoor coverage across the UK before 2016."
In addition to the £790 million they spent securing all of that 4G spectrum Vodafone also claim to be investing £1.8 million every day in improving their network.
It shows too, as they're clearly hard at work on creating a 4G empire. They've already launched a few 4G-ready phones, meaning that once their 4G network does launch you'll already have a compatible handset. Right now your choices are limited to the Nokia Lumia 920, HTC One and Blackberry Z10, but they're bound to launch more in the coming months.
They've also announced an early upgrade plan, allowing anyone who's purchased an iPhone 5, Samsung Galaxy S3 or Samsung Galaxy Note 2 from the company to exchange it for a shiny new 4G phone, with 70% of their remaining monthly charges being knocked off.
There's a long road ahead of them and a lot of competition, but with 4G coming in a big way it's an exciting time for both networks and customers.