[caption id="attachment_5750" align="aligncenter" width="220"]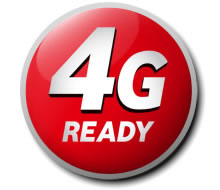 Vodafone Pips O2 to 4G Launch In Glasgow – Edinburgh Next
[/caption]
Vodafone has launched 4G in Glasgow ahead of rivals O2 but a year later than EE. On top of this EE has double speed 4G running in Glasgow whilst Vodafone has standard 4G.
Vodafone launched 4G in the UK on 28th August this year. At that time it launched 4G in Birmingham, Coventry, Leeds, Leicester, London, Nottingham and Sheffield and planned to launch 4G in Bradford, Edinburgh, Glasgow, Liverpool, Manchester and Newcastle before the end of 2013.
Vodafone has confirmed that 4G is now "live" in Glasgow and will also launch in Edinburgh sometime around the third week in November.
This is great news for users in Glasgow and Edinburgh and for Scotland. Research by Capital Economics forecasts that the arrival of 4G in Glasgow will boost the city's economy by over £60 million per year and in Edinburgh by just under £50 million.
Nicola Sturgeon, Deputy First Minister for Scotland, commented "The launch of Vodafone's 4G service will allow businesses in Glasgow and Edinburgh to work faster and more effectively. It also gives the people of Glasgow and Edinburgh the opportunity to access and share more data".
The rest of Scotland will have to wait to get 4G in their town or city until sometime in 2014 and in some cases 2015.
Useful reading :
What is Double Speed 4G?
Useful reading :
Benefits of Using Spotify Premium on Vodafone 4G
Useful  reading :
Vodafone 4G Escalates At An Impressive Rate