Vodafone Smart 4 power and Vodafone Smart 4 turbo -4G phones
Getting 4G is becoming cheaper all the time, with both contracts and compatible phones coming down in price, but there are still only a few handsets at the bottom end of the market that support it.
That's presumably why Vodafone has decided to launch two entry-level handsets of its own, both of which include 4G connectivity.
The Vodafone Smart 4 turbo is the more basic of the two, equipped as it is with a 4.5 inch display packing a pixel density of 221ppi. That's not terrible but it's a long way south of great. It's also a little worse than the 245ppi EE Kestrel, which is also cheap, also 4G enabled and also has a 4.5 inch screen.
Under the hood the Smart 4 turbo has a 1.2GHz quad-core Snapdragon 400 processor and 1GB of RAM, which should be enough to keep it running well just as long as you don't throw anything too demanding at it.
There's a 5 megapixel camera on the back and a 0.3 megapixel snapper on the front and it has an 1880 mAh battery and runs Android 4.4 KitKat, all of which leaves it with fairly standard low-end specs. It's out now from Vodafone stores free of charge on a £31.50 Vodafone Red 4G plan or for £135 on pay as you go, though Vodafone doesn't currently offer 4G on pay as you go so if you buy it like that you'll be stuck with 3G.
That price is a little bit of a problem as the similarly specced EE Kestrel can be grabbed for just £99, while the substantially superior Moto G with 4G is only around £20 more, so the Smart 4 turbo could be a tough sell.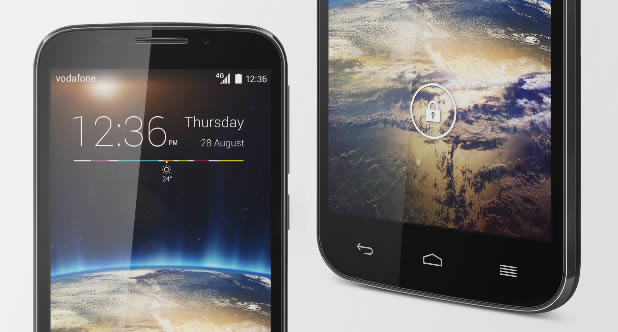 Thankfully that's not the only 4G phone that Vodafone is launching. There's also the Smart 4 power, though it isn't radically different. Like the Smart 4 turbo it has a 5 megapixel camera, runs Android 4.4 KitKat and supports 4G. However it has a larger 5.0 inch qHD display and a slightly faster 1.3GHz quad-core MediaTek processor that's been specially tuned to allow super-fast connection to Vodafone's 4G network.
It doesn't have any more RAM though, with just 1GB in all, however the battery is significantly larger at 3000 mAh. If Vodafone prices this one similarly to the Moto G with 4G at around £160 then it could prove quite compelling, but unfortunately the Smart 4 power isn't out yet and the network hasn't announced what it will be charging for it, so we'll have to wait and see.
In the meantime, pending review we'd hold off on buying the Smart 4 turbo, as on paper there's little to recommend it over the EE Kestrel or Moto G with 4G and the Smart 4 power may yet prove the better buy in any case.
Have you read our EE Kestrel Review?