[caption id="attachment_5530" align="aligncenter" width="669"]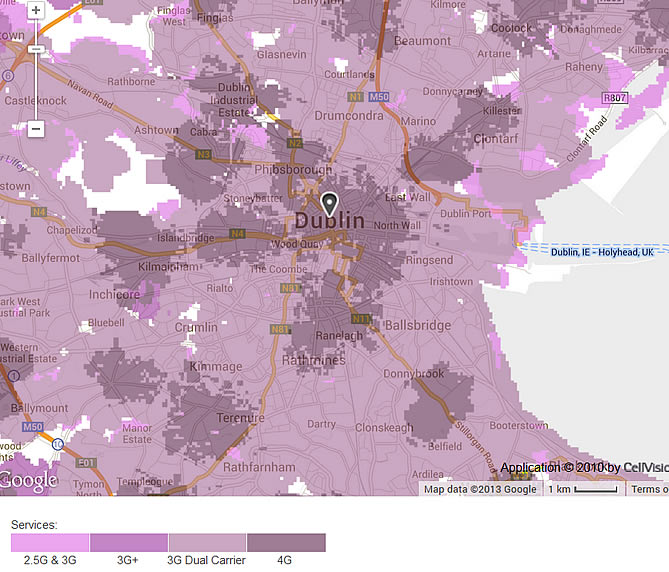 Vodafone 4G Mobile Broadband Coverage in Dublin
[/caption]
Vodafone Ireland have launched 4G mobile broadband in six cities and 23 towns across the country. Eircom were first to launch 4G in Ireland last month and launched its 4G mobile network in Dublin, Carlow and Athlone and immediately provided 4G coverage for 30% of the population.
Currently, Vodafone has only launched 4G mobile broadband which means that consumers will have to wait until just before Xmas to get 4G on their smartphones. i.e. Vodafone customers have to wait until Xmas to get 4G voice and smartphone connectivity.
The devices that will currently benefit from Vodafone 4G are : Sony Xperia Z tablet. R212 Mobile WiFi Unit and the 25008Z dongle i.e. data driven devices only. The cost works out at €29.99 per month (ex VAT) for a 20GB data allowance.
Vodafone launched 4G in 6 cities : Cities Dublin, Cork, Limerick, Galway, Waterford and Kilkenny and in 23 towns as follows: Carlow, Tralee, Wexford, Middleton, Carrigaline, Mallow, Killarney, Enniscorthy, Dungarvan, New Ross, Kenmare, Tullow, Kanturk, Bagnelstown, Thomastown, Millstreet, , Bunclody, Newmarket, Dunmanway, Lismore, Rosslare Harbour, Rosslare Strand and Killorglin.
Vodafone is expecting to launch 4G before Xmas in : Cork, Galway and Limerick at which time around 43% of the population will be covered. Vodafone Ireland claim that 4G will offer download speeds of ten times faster than a standard 3G network.
Sheila Kavanagh, Head of Mobile Networks, Vodafone Ireland said,"'4G will be available to consumers and businesses across the largest geographical spread of the country to reach as many customers as possible. Our overall network investment programme, to make Ireland's leading network even better for all customers, has begun. During the summer the South East was upgraded bringing data everywhere there is voice coverage and now enhancements and upgrades are being delivered to the South West."
Useful reading : All 4G articles covering 4G in Ireland