[caption id="attachment_2746" align="aligncenter" width="300"]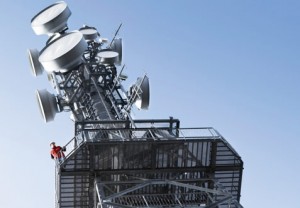 Vodafone Investing £900 Million in 4G Launch[/caption]
If there's one thing you can take away from Vodafone's activities over the last few months it's that they're serious about 4G. Three key events lead us to that conclusion. The most recent of which is that Vodafone have announced that they will be spending more than £900 million on network improvements this year, which is around 50% more than the £601 million that they spent last year. All in all it amounts to a spend of more than £2.5 million each and every day. It's a big jump in spending and a huge chunk of that money is going to preparations for their 4G launch.
Vodafone plan to launch their 4G network in or around August, which is later than they'd originally planned, but that brings us to the second event that suggests that they're taking 4G seriously, specifically that they delayed the launch to get the timing right. Launching in August means that they can launch at around the same time as the next iPhone and secure that for their 4G network. Not only will the timing mean that they can secure a lot of sales, but if they launch any earlier they won't be able to stock a 4G iPhone at all, as the latest model doesn't support the spectrum bands that Vodafone have access to. Delaying the launch also gives them more time to prepare and build up their infrastructure.
The final, or first (depending on how you look at it) action that shows Vodafone's commitment to 4G is the Ofcom 4G spectrum auction itself which took place back in February, at which Vodafone spent an enormous £790,761,000. That's nearly £200 million more than the next highest spending company EE, who parted with £588,876,000. O2 spent less still at £550,000,000 and Three were the last of the major players with £250,000,000. The wildcard - BT, spent £186,476,000.
So Vodafone spent by far the most and were rewarded with more 4G spectrum than anyone else, specifically 2 x 10 MHz of 800 MHz spectrum, 2 x 20 MHz of 2.6 GHz spectrum and 1 x 25 MHz of 2.6 GHz spectrum (unpaired). That should be enough to allow Vodafone to build a strong and fast 4G network both in urban, inner city locations and across rural countryside areas.
Vodafone are clearly working hard and committed to the best 4G launch possible. Indeed they've stated that their preparations are well underway and that they're currently set to meet their target of coverage for 98% of the UK population by 2015. They're not clear on whether they mean the beginning of 2015 or later in the year, so it's hard to say how that stacks up to EE's target of reaching 98% by the end of 2014, but given that EE have had almost a year's head start it's not bad going either way.
While a lot of that £900 million will be going towards 4G not all of it is. The other major project that Vodafone are undertaking is to seamlessly integrate their mobile phone network and their fixed line network, which should increase the speed and reliability of their overall network as well as allowing Vodafone to deliver wider reaching coverage.
Fixed line networks is something that the company are quite new to, having bought Cable & Wireless Worldwide last year for over £1 billion. Cable & Wireless Worldwide are one of the UK's largest fixed communications providers and have a fixed line fibre optic cable network of over 20,500 kilometres (or 12,738 miles).
As well as increasing the speed and coverage of their network, integrating their phone masts with their fibre optic cables will also help Vodafone and their customers to create innovative new services and of course it will allow both businesses and public sector customers to simplify their operations, leading to increased productivity and potentially lower costs.
In a statement, Vodafone UK chief executive Guy Laurence said:
"This is great news for customers and further evidence of our commitment to deliver our best ever network. We're bringing together the best of mobile and fixed communications to help our business customers make their communications work for them.
For consumers, it's another important step towards the arrival of our ultra-fast 4G service later this year. It is also great news for the country. We're investing in vital national infrastructure that can help play an important role in supporting growth in the wider economy."
It's a clear commitment to strengthening and improving their network wherever possible and with the arrival of 4G the stakes are higher than ever. After all there's a lot of money to be made from it for any network that gets it right - through a combination of getting the price right and having solid infrastructure to provide high speeds and good and reliable coverage. If Vodafone (or O2 or Three) can launch strong and keep the momentum going they can all but guarantee large 4G earnings for the foreseeable future, but make a mistake and they could lose it all.
EE have certainly realised that as they are making the absolute most of their head start, by not just increasing 4GEE coverage but also doubling the speed in locations where they already provide the service.
O2 and Three with their comparatively small investments into the technology may have an uphill struggle on their hands, though at least Three look committed to competitive pricing and have their Ultrafast service to tide them over.
Even Vodafone with the huge investments they've made both at the spectrum auction and since then will have a lot of catching up to do, but they seem committed to getting the launch right and that's a very promising first step.
We won't know how it's all going to pan out for a while yet - even once Vodafone, Three and O2 launch their respective 4G services it will take a while for them to build up the sort of coverage and customer base that EE have, but it's certainly interesting to watch.