[caption id="attachment_4391" align="aligncenter" width="320"]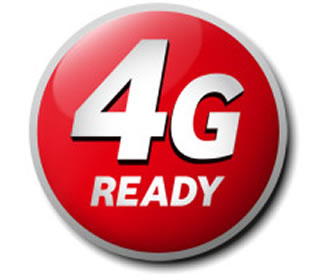 Vodafone is Kicking Its 4G Subscriber Drive Into Action with its 4G Bonus offer.
[/caption]
Vodafone has made an offer which should not be overlooked. In a move to collect as many new 4G subscribers as possible they are offering an extra 4GB of data to both new and exisiting 4G customers. The offer is being made just as Vodafone announce their 4G network will be rolled out beyond London into Birmingham, Coventry, Leicester, Nottingham and Sheffield later this month.
New 4G customers looking to secure what Vodafone is calling its "4G Bonus" must sign a 4G contract by the end of October to qualify. Existing 4G customers won't be left out provided they signed up after Vodafone's 4G on 12th August. The updated data allowance continues for the length of the contract.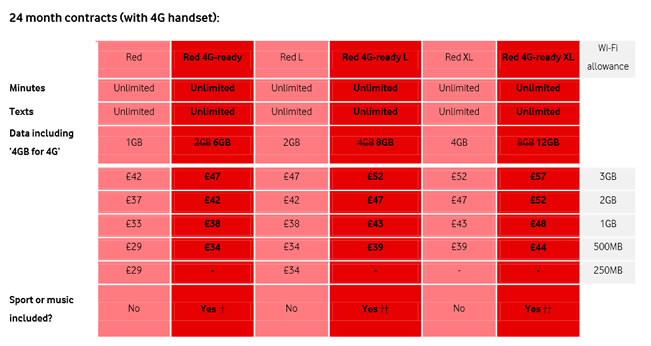 Vodafone has updated its 3 Red 4G Ready price plans as can be seen above. The additional 4GB of data that Vodafone is giving customers that qualify for it, is a useful addition to be sure. Vodafone offer either Sky Sports Mobile TV or Spotify Premium for free with all its 4G contracts and the additional 4G data allowance will come in very useful.
'With our Vodafone Red 4G-ready plans 4G finally has a purpose and now with the '4GBonus' Vodafone ultrafast 4G is even more compelling. There are a number of hotly anticipated new devices coming out in the Autumn and with the '4GBonus' there are even more reasons for customers to choose Ultrafast 4G from Vodafone.' Said Mark Howe of Vodafone UK.
4G look at the 4G Bonus offer from Vodafone, and although this is a limited time offer, it will certainly spice things up as Vodafone attempt to chase down EE with their ever improving 4G roll-out and coverage. The main advantage of this offer is that even though 4G may not be rolled out in your area you can still qualify for the 4G Bonus of an extra 4GB of data per month and then wait for 4G to arrive in your area.
In addition to 4G roll-out in London and Birmingham, Coventry, Leicester, Nottingham and Sheffield this month, and with Bradford, Edinburgh, Glasgow, Leeds, Liverpool, Manchester and Newcastle coming next then the 4G Bonus deal may fit in with many people's plans.