[caption id="attachment_13" align="aligncenter" width="220"]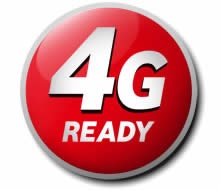 Vodafone 4G Ready[/caption]
Following in the footsteps of Three, who not long ago announced that they'd wait until the end of the year to launch their 4G network, Vodafone have announced that they too are in no hurry to launch, opting instead to roll their network out in or around September (having previously said they'd launch around June).
The reason for the delay is that while the iPhone 5 works on the 1800 MHz frequency that EE's 4G network uses, it doesn't work on the frequencies that Vodafone, O2 and Three all bid on at the Ofcom auction.
This wouldn't have been a problem as the iPhone 5S was originally touted for a June release and that was going to be compatible with Vodafone's 4G frequencies. Presumably EE would have still essentially had iPhone 5 exclusivity but as that would no longer have been the latest model it wouldn't be too much of an issue for Vodafone. However the iPhone 5S has now been pushed back to around September due to manufacturing delays.
That means that if Vodafone still launched a 4G network in June as originally planned they would do so without the iPhone, which is a big deal as the iPhone 5 is the best selling smartphone in the world.
Whether having no 4G network is a preferable alternative to having one without the iPhone 5 is somewhat debatable, but Vodafone's Chief Executive Vittorio Colao argues that the extra time is a good thing saying that "we want to be able to launch it when it's really ready. End of the summer means when there is going to be a good commercial window for launching it" and that "we are convinced our own 4G will be better performing."
Whether he's just putting on a brave face or genuinely believes that is anyone's guess, but it's reminiscent of Three's comments that they wanted the extra time to prepare and to see how the other networks were positioned, so in some ways this delay may well be for the better.
The delay may allow Vodafone to come out strong with a better developed network, not to mention one which has all the key phones available. They've announced plans to bring 4G network coverage to 40% of the UK by March 2014, which would make for a solid start.
However EE are hardly going to be sitting on their hands in the meantime. They've had 4G capabilities since October of last year and already have over 400,000 subscribers, with that number expected to go up to over 1,000,000 by Christmas.
EE also currently provide coverage to 62 towns and cities across the UK - which accounts for the homes and businesses of more than 50% of the UK population. By the end of June they expect to expand their coverage to 80 towns and cities and by the end of the year they are aiming to bring 4GEE to more than 70% of the UK population, which will put them some way ahead of Vodafone. EE are also working on doubling the speed of their 4G network by improving the infrastructure of locations that already have coverage, with 10 major cities expected to see the speed boost by the end of the summer.
With all that in mind it's unlikely that Vodafone will be usurping EE for 4G supremacy anytime soon. They may be able to compete well with Three and O2 however, as Three look set to launch their 4G network even later, while O2 have stayed relatively quiet on what their plans are.
Worryingly, along with his other comments Colao also stated that Vodafone's 4G service would be a 'premium' one, which suggests high pricing. EE's 4G pricing is arguably prohibitively high for some people and we'd hoped that once the other networks launched a 4G service there'd be a pricing war leading to lower costs all round. There still might be, particularly if Vodafone want to claw back any ground from EE, but Colao's comments are certainly cause for concern.
If nothing else at least Three have stated that their 4G network will be priced reasonably and are even offering free upgrades to 4G speeds for all existing Ultrafast customers. But even with this delay Three still look like they're going to be the last network to actually have a live 4G service, so anyone holding out for low prices may be waiting for quite a while yet.