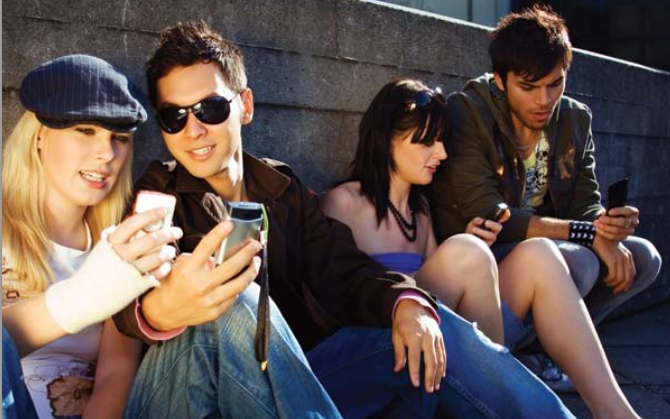 As Vodafone shares much of O2's infrastructure its expansion has been broadly similar, but the two networks have separate signals and spectrum, so there's still the potential for very different performance.
Like O2, Vodafone 4G has spread rapidly, but just how comprehensive is its coverage really? And how does it fare for all important matters like speed and reliability?
Those are tougher questions, so to give you an insight into the answers we've turned to RootMetrics extensive tests throughout the second half of 2014.
The company tested all the networks in Belfast, Birmingham, Bristol, Cardiff, Coventry, Edinburgh, Glasgow, Hull, Leeds, Leicester, Liverpool, London, Manchester, Newcastle, Nottingham and Sheffield and it's these results, both individually and combined, which we'll be looking at to get a clearer picture of where Vodafone 4G stands.
Footprint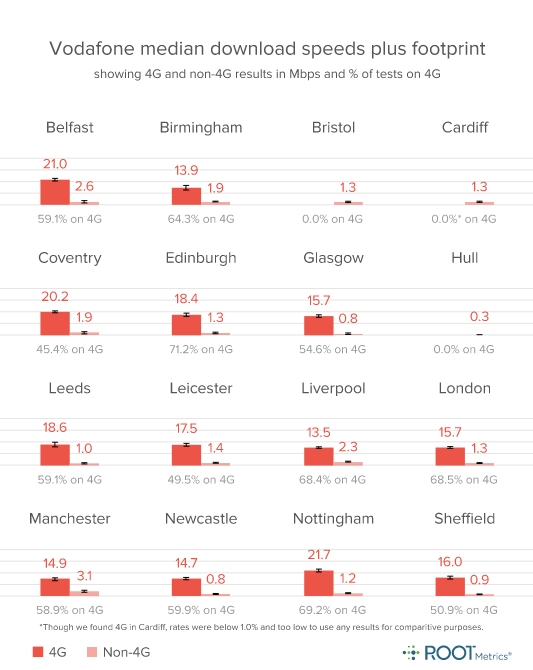 Vodafone's 4G footprint is the likelihood of being able to access 4G on the network in any given area. At the time of testing its largest 4G footprint was 71.2% in Edinburgh, but its median footprint across the 16 markets was significantly lower at 58.2% and there was no 4G available in Bristol, Cardiff or Hull at the time of testing.
That still actually puts it in second place for overall median coverage, ahead of O2 at 52.7%, though of course none of this accounts for progress made in 2015. For one thing the network now does offer 4G in Bristol, Cardiff and Hull.
Reliability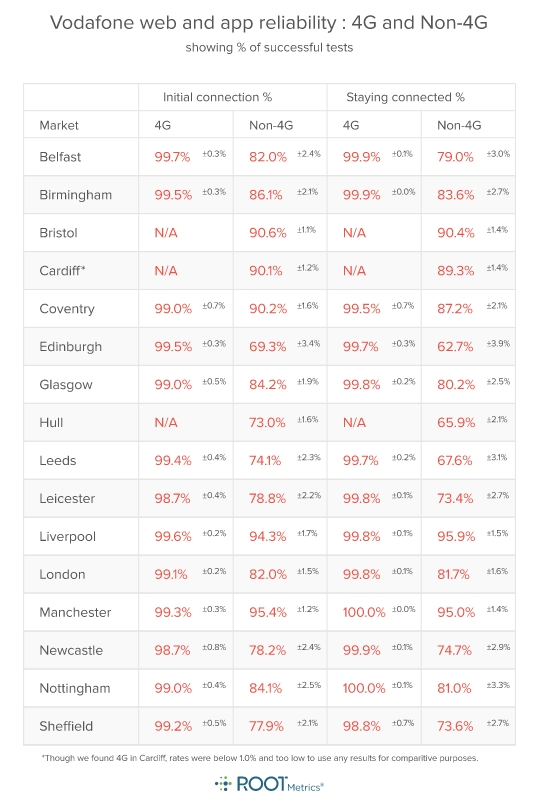 Vodafone proved itself extremely reliable on 4G, with initial connection rates of near or higher than 99% in all 4G markets. However when 4G wasn't available reliability fell substantially, with a lower than 80% success rate in six markets and only two markets nearing a 95% successful connection rate.
When it came to maintaining a connection long enough to complete a task Vodafone managed this almost 100% of the time in all markets when 4G was available, but when it wasn't available results ranged from 62.7% in Edinburgh to 95.9% in Liverpool.
So in short when you're on 4G Vodafone has brilliant reliability, while when you're not it's not so impressive. The exception to this is Liverpool and Manchester, where reliability both on and off 4G was found to be exceptionally high.
Speed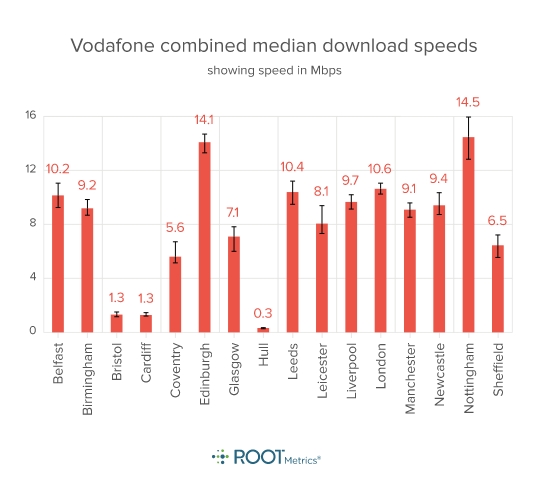 During RootMetrics testing Vodafone recorded a high speed of 64.5Mbps in both London and Belfast. Those are almost identical to O2's highest speeds and a lot higher than Three's, but lower than EE's. However they're also one-offs. To get an idea of realistic speeds you need to look at the median and here Vodafone was still fairly impressive.
Vodafone's median speeds always exceeded 10Mbps in areas where 4G was available. That's good as 10Mbps is really the minimum you want. Vodafone's median speed also exceeded 15Mbps in a number of markets and surpassed 20Mbps in three markets (Belfast, Coventry and Nottingham).
O2 by comparison only exceeded 20Mbps in two markets, which leaves Vodafone second only to EE in that sense.
However performance wasn't so great when 4G wasn't available. Median download speeds were lower than 1Mbps in Glasgow, Hull, Newcastle and Sheffield and Vodafone only exceeded 3Mbps in Manchester when not on 4G.
That pales in comparison to Three, which while slower on 4G had speeds which reached or exceeded 5Mbps in all areas other than Hull when not on 4G. However given Vodafone's widespread and rapidly expanding 4G coverage its lacking speeds for other technology types are increasingly unimportant, since you'll tend to be able to get a 4G signal.
Conclusion
Vodafone, like O2, has rapidly expanded its 4G network. It's still not a true rival for EE yet when it comes to coverage but it may be soon.
The network also offers solid 4G speeds and high levels of reliability when on 4G and it's continuing to upgrade its infrastructure so it's only going to get better.
Its speed and reliability when not on 4G is a little more troubling, but once the network has comprehensive 4G coverage that will hardly matter anymore.
For now Vodafone paints a similar picture to O2, with a broadly similar footprint, speeds and reliability, while it tops Three in all areas except reliability.
More reading :