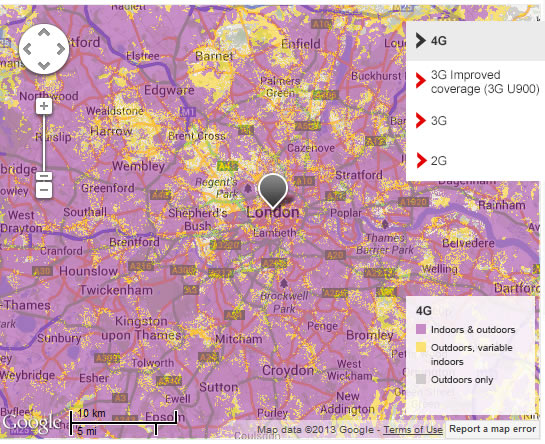 4G Takes A Closer Look at Vodafone's 4G Launch Coverage in London
Vodafone launched 4G in London last week ( 29th August ) and very quickly pointed out that their 4G is around 6 times faster than 3G. They were not so quick to point what 4G coverage existed at launch across the city.
4G, perhaps like many others, assumed that the whole of London would be getting 4G on that day. However, this is not the case and Vodafone have not detailed in which areas of London you can actually get a 4G signal, and more importantly does it work both indoors and outdoors.
Vodafone has spent over £100 Million pounds on its 4G mobile network in London alone, with the investment on its national 4G mobile network scheduled to hit £900 million. Additionally, they spent more than £900 Million of the acquisition of three 4G mobile licences from Ofcom in February.
Back to the launch of 4G in London. As far as we are aware, Vodafone have not confirmed which parts of Central and Greater London had 4G on launch day. However, it is obvious that not all areas of London currently have both outdoor and indoor 4G coverage.
We know this because Vodafone have said they are launching a new 4G site in London every 30 minutes over the next 2 months. This means that Vodafone will be switching on around 1000 4G base stations and transmitters across London over the next 2 months.
Looking at Vodafone's own coverage map for London ( above ) you can see exactly how widespread Vodafone's 4G coverage is across the City. The coverage is broken down into "indoors and outdoors" in purple, "outdoors and variable indoors" in yellow and "outdoors only" in Grey.
So by the end of October, Vodafone will have switched on the additional 1000 4G sites and we would then expect to see a "blanket" of purple across London.
Vodafone will launch 4G in Birmingham, Coventry, Leicester, Nottingham and Sheffield during the month of September and aim to have 4G accessible to 98% of the UK population by 2015.