[caption id="attachment_3504" align="aligncenter" width="300"]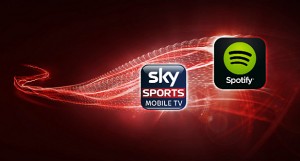 Get Sky Mobile Premier League Games or Spotify Premium on Vodafone Red 4G.[/caption]
Vodafone has confirmed the launch date of its 4G mobile network in the UK and overall it sounds good with download speeds up to 6 times faster than its current 3G network.
Vodafone will launch 4G in London on 29th August followed by Birmingham, Bradford, Coventry, Edinburgh, Glasgow, Leeds, Leicester, Liverpool, Manchester, Newcastle, Nottingham and Sheffield prior to the end of 2013. The new 4G offering is called Vodafone Red 4G.
This seems to be very similar to the forthcoming 4G launch by O2 and way behind EE which has already launched 4G in 95 towns and cities to-date. At first glance I was disappointed. Then I looked into the launch details further and there are some unexpected goodies on offer.
The first piece of excellent news is that any Vodafone Red customer upgrading to Vodafone Red 4G will benefit from double the amount of mobile internet data currently available on Vodafone Red and can choose from 2 years free use of either Sky Sports Mobile TV or Spotify Premium for just an extra £5 a month. This includes either 150 hours of live Barclays Premier League action on Sky Sports Mobile TV OR instant access to millions of songs with a Spotify Premium account.
Vodafone will offer three main Vodafone Red 4G-ready plans called Vodafone Red 4G, Red 4G L and Red 4G XL. Each plan comes with either Spotify Premium or Sky Sports Mobile TV access and unlimited calls and texts. All Vodafone Red 4G customers also get the Sky Sports Mobile TV or Spotify Premium package included.
A contract on Vodafone Red 4G, over 2 years, with a 4G ready phone included will start at £34 a month. The more expensive Vodafone Red 4G XL plan includes 8GB of mobile data usage included.
Guy Laurence, CEO, Vodafone UK said: "With 4G, speed is just the start: it's what you do with it that really matters. We are taking 4G into a new league by offering sport; and changing the tune with all the music you could want. 4G is coming of age, and there's plenty to look forward to…"