[caption id="attachment_736" align="aligncenter" width="220"]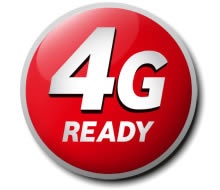 Vodafone 4G Ready[/caption]
Vodafone 4G begins to rock and lift off big time...
Vodafone has accrued over 500,000 4G subscribers on its 4G Red plans since late October 2013, or six months since its 4G launch, which is pretty impressive and roughly on the same level as EE. It took EE 10 months to hit 1 million 4G subscribers and we see no reason why Vodafone should not match this.
The company has also commenced rolling out 4G to another 115 towns and districts (more details below), bringing Vodafone's 4G to a total of 208 cities, towns and districts across the UK.
That means Vodafone's 4G is accessible to 36% of the UK population and will continue to surge onwards as Vodafone is committed to ploughing a further £900 million into its 4G mobile network rollout during 2014.
Vodafone's 4G frequency spectrum includes a large chunk of 800MHz bandwidth, which provides favourable indoor 4G signal coverage inside buildings. The company has stated that it intends to have indoor 4G coverage across 98% of the UK population by 2015.
The operator has also confirmed that it has found that a 4G customer is currently using twice as much mobile data as those on 3G. Of course, that's hardly surprising as 4G customers get free access to either Spotify Preminum or Sky Sports Mobile TV, but it still ties in nicely with recent research : 4G Drives Data Use Through The Roof.
Jeroen Hoencamp, CEO, Vodafone UK said " It's particularly exciting to see how the nation is embracing 4G in their everyday lives. Now people in more towns and districts can enjoy Vodafone ultrafast 4G and get closer to the action with our great entertainment packages.
So, the question for even more people now is: which do you want – music or sport? 4G is also proving a big hit with our SME customers such as NearDesk and Fulham FC where high speed downloads, HD video and video conferencing are driving productivity.
4G is quickly changing the way the UK works. It's making a huge impact on our Corporate and Public Sector customers who really see the value of 4G connectivity."
Vodafone has certainly moved quickly in the last six months and we await with keen interest to see where the rest of 2014 takes us. By that time Vodafone will have 98% of the UK with indoor 4G coverage and possibly up to 3 million 4G subscribers or more?
More details on the recent Vodafone expansion
In the last few months, Vodafone has started to expand its ultrafast 4G coverage to a further 115 towns and districts across the UK, including parts of Gateshead, Newbury, Rotherham, Slough, Solihull, Sunderland, Stockport, Sutton Coldfield, Walsall and West Bromwich . * It has continued to expand its existing ultrafast 4G coverage in Birmingham, Bradford, Coventry, Edinburgh, Glasgow, Leeds, Leicester, Liverpool, Manchester, Newcastle, Nottingham and Sheffield and more than 80 towns and districts in and around London and the South East.