[caption id="attachment_3346" align="aligncenter" width="220"]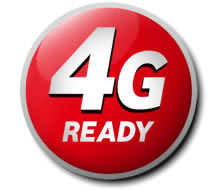 Vodafone 4G may launch as early as August.[/caption]
Alongside O2 and Three, Vodafone have been hard at work preparing to launch their 4G network. It might seem like it's taking a long time, but then a lot of work needs to go into upgrading their infrastructure, not to mention the fact that they want it to be the strongest launch possible, as a weak launch could be damaging not just in the short term but also have long term effects on their success.
Quite a few different things have gone into Vodafone's preparation. For a start they spent the huge sum of £790 million at the 4G spectrum auction held in February. That's more than any other network spent and by extension led them to acquire more 4G spectrum overall in the auction than any other network. It should give them an advantage over O2 and Three, as well as positioning them as a major threat to EE - the only network to currently have a live 4G network.
Just like O2, Vodafone plan to provide indoor 4G coverage to at least 98% of the population by the end of 2015. That's an ambitious goal and with only just over two years left to achieve it a lot of work must have already been done despite the fact that not much of it is yet visible.
Vodafone 4G Launch
Vodafone have stated that they will probably be launching 4G in August or September and that they'll be rolling it out city by city. They haven't yet announced which cities will be getting it first, but we'd assume it will be the bigger ones, like London, Cardiff and Manchester.
To help further improve their network Vodafone have recently purchased 20,500km of fixed line fibre optic cable, which means that they now have more of it than any other UK network. They aim to integrate this fixed line cabling with their mobile network, giving them more reliable and more wide-spread coverage.
All of these various improvements and preparations amount to an investment of roughly £1.8 million every single day, which is a serious amount of money by anyone's standards.
Vodafone 4G Ready Phones
[caption id="attachment_3348" align="alignnone" width="300"]

Vodafone 4G Phones[/caption]
As well as spending a lot of money and upgrading their infrastructure Vodafone are also making it as simple as possible for their customers to get setup with 4G and even making it possible to prepare for it right now. They're doing that by launching a range of 4G ready handsets - so if you buy one now you'll be able to enjoy 4G on it once it becomes available, rather than having to upgrade.
Currently Vodafone offer 4G-ready versions of the Nokia Lumia 920, BlackBerry Q5, Samsung Galaxy Note 2, Samsung Galaxy S3, Nokia Lumia 820, Sony Xperia Z, HTC One SV, BlackBerry Z10, HTC One, BlackBerry Q10, Samsung Galaxy S4, Nokia Lumia 925 and Samsung Galaxy S4 Mini. So in other words there's quite a range of both high and mid end handsets and a choice of Android, Windows Phone 8 or BlackBerry. That list is likely to increase rapidly and with the likes of the newly announced Nokia Lumia 625 supporting 4G it's also likely that some low end devices may soon be available.
The iPhone 5 is notable by its absence but there's a reason for that, as it doesn't support the spectrum bands that Vodafone will be using for 4G. However if you're both an Apple fan and a Vodafone customer there's no need to worry, as the iPhone 5S / iPhone 6 or whatever Apple choose to call it should do and it's likely to be out in August or September - which  by no coincidence is around the time that Vodafone plan to launch their 4G network. In other words there should be a 4G-ready iPhone available from Vodafone on or around day one of their 4G rollout.
To make things even easier for iPhone fans, or indeed for Samsung fans, anyone who has bought an iPhone 5, Samsung Galaxy S3 or Samsung Galaxy Note 2 from Vodafone can return it to a Vodafone store once they launch their 4G network and upgrade early. Vodafone will even knock 75% off the remaining charges - though that will still leave you with 25% to pay.
There are a few terms and conditions - you'll need to have bought an iPhone 5 between the 12th of September 2012 and 30th of June 2013, a Samsung Galaxy S3 between the 26th of October 2012 and the 31st of March 2013 or a Galaxy Note 2 between the 12th of September 2012 and the 31st of March 2013 in order to qualify and you'll also have to sign up for a 4G plan of equal or higher value than your current one.
Vodafone 4G Launch Final Preparations
Vodafone are also starting to advertise their not-yet-active 4G network, with adverts painted on 800 London taxis and Vodafone 4G branding even appropriately finding its way onto the paintwork of McLaren F1 cars. We'd expect that more conventional billboard, magazine and television adverts will turn up soon too.
As with O2 it's not yet known how much Vodafone are actually going to charge for a 4G contract or how much data you'll be able to get with one, but with their 4G launch mere months away it shouldn't be long before we find out.
The timing of their launch, which we predict will be August,  is likely to be similar to O2 as well, so the choice of available 4G providers is going to triple very shortly - and then quadruple once Three join the party. That's going to put a lot of pressure on EE and indeed on all of the networks to be as competitive as possible, which is something that should hopefully benefit everyone.
We'll bring you more news from Vodafone, O2 and Three as soon as we have it, including prices, coverage and exact launch dates. Until then why not take a look at the range of 4G handsets that are already available from all four networks, so that once 4G really gets going you can hit the ground running.