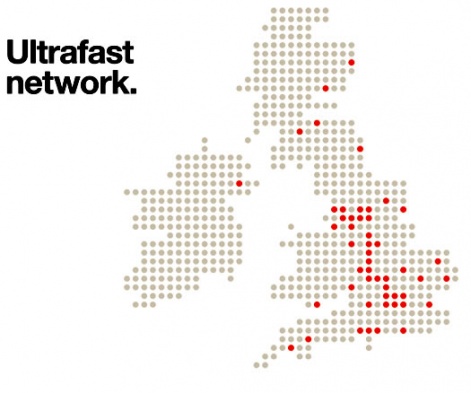 Three has now made an official statement which confirms that they will not launch 4G until October, 2013 which is a surprising 12 months after EE ( which owns Orange and T-Mobile ) launched its 4G network.
In the meantime, Three will be upgrading its nationwide 3G network to DC-HSDPA which is the fastest type of 3G network. Three has also confirmed that it will update its network back-haul. The back-haul network is what connects the internet to Three's masts.
The DC-HSDPA network upgrade has started and will be available to 50% of the UK population as we enter 2013 and to 80% of the population by April 2013. 39% of the population have access to Three's DC-HSDPA network today. The image above shows the cities where "ultrafast internet" ( DC-HSDPA ) can be received and these cities are named below.
Three's terminology for DC-HSDPA is "ultrafast internet" and Three is touting download speeds via their ultrafast internet which are twice as fast as the current 3G technology and up to 85% as fast as 4G download speeds. We here at 4G.co.uk find that hard to get our heads around but this is supported by research data from Enders Analysis.
To take advantage of the "ultrafast internet" ( DC-HSDPA ) you will need a DC-HSDPA enabled phone, tablet or device. There are 6 such devices currently available and these are the : iPhone 5, the Sony Xperia T, the HTC Windows Phone 8X, the iPad mini, the new iPad, and the Huawei E3521 dongle.
Three say that the DC-HSDPA network will then gain further capacity with the introduction of its 4G LTE mobile network using the 4G frequency spectrum it bought from EE in the 1800MHz band. There are two chunks of 15Mhz frequency that Three can use for 4G LTE mobile services and this will double the amount of frequency spectrum available to Three.
4G.co.uk half expected Three's 4G launch to come later than both Vodafone's and O2's yet to now learn that Three's 4G launch will come 12 months after EEs is a bit of a shocker. EE, Vodafone and O2 will be way ahead of Three in the "4G arena" and by this we mean establishing a 4G brand identity, gaining 4G consumers and selling 4G phones and 4G tablets.
Yes we here what Three say about DC-HSDPA being quicker than a standard 3G network and that its network back-haul's capacity and speed is being improved but surely to say is has a 4G network sooner rather than later is much better. We remember when Three were first to launch 3G back in 2003 and how much better it was than 2G. This is exactly what EE is saying now – that 4G is better than 3G in both speed and the additional data capacity a 4G network has over a 3G one. One last point is would you rather tell your friends and family you have a 4G phone or a DC-HSDPA phone.
Having said the above, we are sure Three know what they are doing and when you consider a 4G phone on a 4G network with 500MB of 4G mobile data compared to a DC-HSDPA phone on a DC-HSDPA network with unlimited mobile data plus it comes at a lower price then Three's strategy becomes clearer. Ultrafast mobile internet at low affordable prices with no data limits.
Dave Dyson, Chief Executive of Three UK, said: "Mobile internet is about more than just technology. All-you-can-eat data at prices to suit everyone and peace of mind bundles that guarantee no surprise data bills are designed to allow customers to get the most enjoyment from their smartphones."