[caption id="attachment_726" align="aligncenter" width="300"]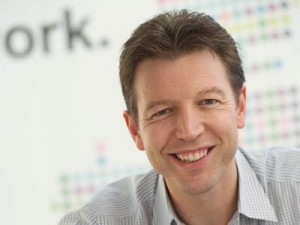 CEO David Dyson hits out at Ofcom over 'irrational' 4G auction plans in the latest episode of the saga.[/caption]
Three's CEO David Dyson ( above ) hits out at Ofcom over 'irrational' 4G auction plans in the latest episode of the saga. If the 3G auction was held during the infancy of mobile, the 4G auction is occurring during its teenage years. That was how Ofcom competition policy director David Stewart described the situation with issue beset 4G auction.
During the Future of Mobile event, which was sponsored by Three, the operator's CEO David Dyson was calm as he ran through his objections to Ofcom's plan for the sell-off of the spectrum. His issues focused on the fact that a guaranteed sub-1GHz chunk has been taken out for a fourth operator. Dyson claimed that Ofcom's technical modelling was not right and that they should look at it again.
Dyson also had criticisms for the pair of firms that already hold sub-1Ghz spectrum - Vodafone and O2. He said the licence fees for their refarmed 900Mhz need to be looked at again. 'It's a valuable asset of the country and to not get the return on that asset is wrong and should have been sorted,' he commented.
He also criticised the way that Ofcom has made a provisional decision to allow Everything Everywhere to refarm its 1800MHz spectrum for 4G, claiming that it has given the operator a big competitive advantage. He said that the decision should have been made after the 4G auction. He added that if Everything Everywhere gets spectrum liberalisation, they will be able to use it as a marketing position and market the strength of the network to make them stand out from the rest of the market. 'It could be a premium to 3G services today - a bit more niche and targeted at a higher value segment. I'm not expecting a broad offer from day one,' he added.
Nicholas Blades, head of spectrum at Telefonica, agreed with Dyson, saying that they were worried that the market would be split between the haves and have- nots.
It was no surprise that the director of spectrum strategy for Everything Everywhere, Kip Meek did not agree. He said there was 'great danger' in regulators attempting to engineer outcomes, and that trying to stop Everything Everywhere refarming its spectrum was an example of that.
He added that the issue was 'about consumers' and that they were already behind and his company didn't want them to lag further behind. He claimed it was 'inappropriate' to deny users all the benefits of LTE when the UK is already behind much of Europe.