There are plenty of reasons to plump for a 4G phone contract. Data speeds are far faster than on 3G and it's starting to be priced competitively, in fact some networks, such as Three, offer it at no extra cost. But many networks also give customers free extras and they can often be one of the biggest differentiating factors between them. Here then is a list of all the extra services and goodies that you can get with each network.
Vodafone
We're big fans of Vodafone's extras, as they're genuinely useful for almost every user and carry a real cash value.
Any Vodafone Red 4G subscriber can choose between a free Netflix subscription, which would normally cost £5.99 per month, a free Spotify Premium subscription, which would normally cost £9.99 per month and a free Sky Sports Mobile TV subscription, which would normally cost £4.99 per month.
So whether you're a fan of music, films and television shows or sports there's something for you and we can't imagine there are too many people who aren't interested in any of those things. They're all streaming services too, so you can make the most of your 4G tariff and enjoy them on the move.
A 4GB Red 4G data plan includes 6 months of the service of your choice, while a 7GB, 10GB or 13GB plan comes with 24 months of Spotify Premium or Sky Sports Mobile TV, but still only 6 months of Netflix if you opt for that.
O2
O2's extras are generally more about real world experiences than subscription services. The main one is O2 Priority, which is a service and app packed full of deals, discounts and competitions. At the time of writing for example there's the ability to get a free iced drink at Caffè Nero, a 20% discount at Boohoo.com and plenty more besides.
The service also often includes pre-sale tickets to gigs and events as well as exclusive backstage clips and interviews and the offers and content are changing all the time, so if you don't find anything one day you might the next.
Then there's O2 More, which sends you texts about products and offers (some of which are exclusive), based on what you've told the network that you're interested in. It's something that you opt into so if you'd rather not get marketing texts you don't have to.
O2 also runs various events and venues, such as 'The O2' and O2 customers are often eligible for VIP treatment at them, including fast-track entry and exclusive bars.
Finally, if you're on a pay as you go tariff rather than a pay monthly one you can benefit from getting up to 10% of your top-ups back every three months. You get 5% back after the first three months and then it goes up to 10%.
EE
EE's approach to extras falls somewhere between O2's and Vodafone's. It has a selection of three core add-ons which any 4G pay monthly customer with unlimited minutes who joined before March 26th can choose from.
These include Deezer, which is a music streaming service like Spotify, EE Games, which gives you two mobile games to keep each month, and EE TV, which includes 19 channels to stream over 4G or Wi-Fi, with popular ones like Channel 4 and ITV included.
If you're not eligible for any of these you can still add them to your plan for an extra monthly charge.
There are other services too though which all EE 4G customers can enjoy. For example there's EE Tickets, which gives customers discounts and exclusive offers on events, EE Film Store, which allows you to rent movies, two for one cinema tickets every Wednesday and Cash on Tap, which allows EE customers to pay for things in shops using their phone.
Three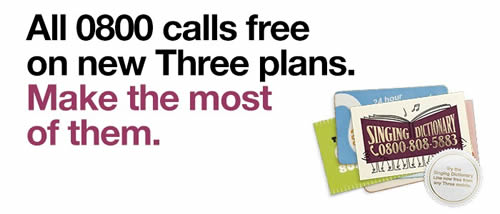 Three isn't quite as big on extras as the other networks, but that doesn't mean it's not a good choice. For one thing it's the only network (not including MVNO's) to offer unlimited 4G data on any of its tariffs and it's reasonably priced too.
All Three pay monthly plans also come with unlimited texts and free calls to 0800, 0808 and 0500 numbers.
Plus Three allows you to use your phone as a mobile hotspot, so you can tether it to a tablet or laptop and share your 4G connection with it, though bear in mind that the monthly hotspot allowance is capped at 2GB even if you have unlimited data.
Looking to find out more about 4G technology?