[caption id="attachment_709" align="aligncenter" width="300"]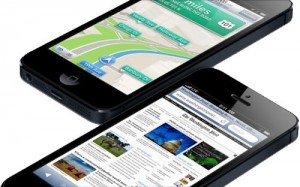 Which mobile networks offering the iPhone 5 to work on 4G.[/caption]
The iPhone 5 was announced last week and is currently available to order via all the mobile operators in the UK. Of course the headline breaking news was that it is 4G enabled and can support 4G download speeds up to FIVE times faster than the iPhone 4S on a 3G network.
 But, although the iPhone 5 is 4G enabled this does not mean that all UK mobile operators will be offering the 4G enabled version and associated faster speeds. This is because of a number of factors and the first is that the forthcoming iPhone 5 only works on three radio frequencies which are 850MHz, 1800MHz and 2100MHz.
This means that only EE ( Everything Everywhere ) have a 4G network geared up for the iPhone 5 to work at 4G speeds and will operate on the 1800MHz frequency. However, it will only be available in 16 cities by Xmas 2012 and is currently at the stage where 4G trials are being conducted in 6 cities. In the meantime only 3G speeds will be on offer to EE customers.
With only EE offering the iPhone 5 and 4G download and upload speeds much faster than 3G, this has upset the other mobile operators namely Vodafone, Three and O2 as they can only offer the iPhone at much slower 3G speeds for up to a year later.
In fact, for O2 and Vodafone the situation is somewhat dire as they don't have any spare frequency to serve their 4G network until Ofcom auction the 4G frequency spectrum in the spring of 2013 and approval of the auction in the Summer. This actually means that Vodafone's and O2's iPhone 5 offerings won't currently work on 4G but even worse is that customers will need to buy another iPhone 5 at a later date which will work on 4G.
This is because the current iPhone works on frequencies 850MHz, 1800MHz and 2100MHz and Vodafone and O2's 4G network ( once they buy 4G spectrum via Ofcom auction ) will work on frequencies 800 MHz and 2.6 GHz. Therefore the current iPhone 5 will be incompatible with their 4G networks but will work on 3G.
Three fare somewhat better because they have recently bought some 1800 MHz bandwidth from EE to use for its 4G mobile network. The only drawback here is that Three can't use this frequency spectrum until the summer of 2013 and this means that customers of Three will be stumped for 4G speeds until then. However, the iPhone 5 they buy now will be compatible with Three's 4G mobile network at that time.
4G will bring you more on the iPhone 5 once we undertake out iPhone 5 review in the near future.