[caption id="attachment_708" align="aligncenter" width="218"]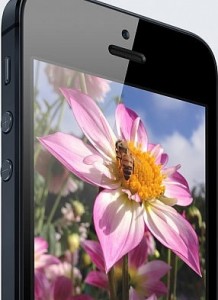 How much better is the new iPhone 5's retina display.[/caption]
The iPhone 5 4G LTE version was unveiled this week and we covered its release here. Now we have started a series of more in-depth articles looking at the more important features of the iPhone 5 4G. The first in the series looks at the iPhone 5 4G's new Retina display.
The iPhone 5 4G now comes with a 4 inch Retina display and is one of the major improvements Apple has introduced over its predecessor – the iPhone 4S.
The all new display of the iPhone 5 4G is 9 millimetres taller and the same width as the iPhone 4S. This brings the aspect ratio bang on to 16:9 which is the perfect ratio for viewing HD movies and browsing the web etc.
The Retina display has a resolution of 1136x640 which brings an additional 18 percent more pixels that the Retina display housed in the iPhone 4S. The 326 pixels per inch for the iPhone 5 4G is so high that Apple say you can't make out the individual pixels via the naked eye.
The iPhone 5 4G now provides 44 percent improved colour saturation over the iPhone 4S's touch-screen display with a max brightness of 500 cd/m2 and a contract ratio of 800:1.
On top of all this, the new Retina display comes loaded with a fingerprint-resistant oleophobic coating to keep the display clean and tidy.
That's it for the a 4 inch Retina display and next in the series from 4G will be
: iPhone 5 - What 3G and Networks Is It Coming To ?