[caption id="attachment_703" align="aligncenter" width="300"]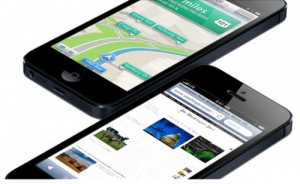 Whose selling what in the iPhone 5 gold-rush.[/caption]
This is the second in a series of 4G.co.uk articles looking at what the benefits of the new iPhone 5 are over its predecessor the iPhone 4S. This article looks at whose selling the iPhone 5 and what network connectivity is offered. Our first article covered : The iPhone 5 4G - the Retina display run through.
Apple confirmed the UK availability date of 21st September for the iPhone 5 smartphone this week and if you want a 3G enabled one you need to pre-order as soon as possible as 4G understands stock is limited.
The key issue is that this is both a 3G and a 4G enabled smartphone so who is offering 4G speeds via 4G connectivity ? After all, a 4G enabled iPhone 5 will likely run FIVE times faster than a 3G enabled one.
The only mobile operator offering 4G connectivity in the UK for up to the next 12 months is EE ( Everything Everywhere which owns Orange and T-Mobile ) so if you want a 4G enabled iPhone 5 and 4G speeds then your choice must be with EE. However, EE don't actually have their 4G network "live yet" – the plan is to have it "live" in 16 UK cites before the end of 2012. More details of EE's 4G rollout can be read here.
The options for a new iPhone 5 running on a 3G enabled network is much easier. Firstly, both Orange and T-Mobile will be selling it. Both have now launched "coming soon "pages www.orange.co.uk/iphone5 and
www.t-mobile.co.uk/iphone5
.
Three has been quick off the mark and will also be offering the 3G enabled version of the iPhone 5 and have a pre-order page up and running. View Three's iPhone 5 page here.