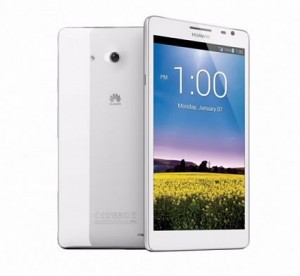 Huawei have unveiled a new 4G smartphone called the Huawei Ascend Mate and it comes with a monster of a display touch-screen at 6.1 inches which we think is the largest ever seen on a smartphone. We guess this is really a
4G "phablet"
and we also note the screen on the Huawei Ascend Mate is only just smaller than the Nexus 7 tablet !
The Huawei Ascend Mate 4G connectivity
The Huawei Ascend Mate is confirmed as being able to run on five different frequency bands and also on 4G LTE - so we assume it will be 4G enabled for use in the UK. We cant say for sure as Huawei didn't actually confirm the frequency bands.
The Huawei Ascend Mate – the touch-screen display
The Ascend Mate has a full HD touch-screen display which measures a full 6.1 inches and a display resolution of 1280 x 720 pixels so you can be assured of great video playback, gaming and web-browsing. It also comes with "Magic Touch" technology which improves the touch-screens responsiveness but also works when you are wearing gloves.
The Huawei Ascend Mate – the power bits
The Mate comes with Huawei's Hi-Silicon 1.5 GHz quad-core processor featuring QPC and ADRX smart power saving technology. The smart power saving technology improves battery standby time and so the Mate manages a full 2 days battery standby time and up to 22 hours talktime. Huawei also say the smartphone charges 30% quicker than any other smartphone.
The Huawei Ascend Mate – the snapper and the rest
The Huawei Ascend Mate comes with a main 8 megapixel camera and includes HDR which enables both great static photography and full HD video recording in a wide variety of lighting conditions. This is another Android Smartphone and comes with Android Jelly Bean ( 4.1 ) which can be updated to the latest version when it goes on sale. It will be first launched on sale in China in February and in the UK sometime later. Two colours have so far been advised and these are Crystal Black and Pure White. That's what is known at the current time but as the CES mist clears we are sure more will be confirmed.