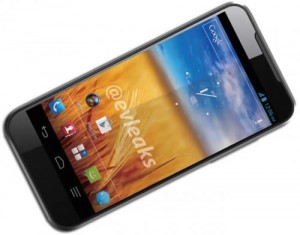 A new smartphone has been leaked and is called the ZTE Grand X Pro. Its predecessor the ZTE Grand X was very well received in the UK and sold well.  In fact, the original ZTE Grand X was labelled as ZTE's flagship smartphone but now we here at 4G.co.uk suspect the ZTE Grand X Pro will become it's new flagship smartphone.
The leak comes via Twitter user EVLeaks who posted a photo of the new ZTE Grand X Pro. The leak wasn't supported by any specification details but the original Grand X which went on sale in August and came with a dual-core Tegra 2 chip so could this mean that the ZTE Grand X Pro will come with something like the a quad-core Snapdragon S4 Pro processor.
4G would also anticipate a larger touch screen than the 4.3 inch that came with the ZTE Grand X and as it is an Android phone we expect to see Android Jelly Bean on-board at least. Many in the industry thought the 8 megapixel camera on the ZTE Grand X could be improved so we expect to see that beefed-up for the ZTE Grand X Pro.
Although this is pure speculation we see no reason why this can't be ZTE's first 4G smartphone in the UK. We feel it could be called the ZTE Grand X Pro i.e. the Pro version as it is ideal for business users and professionals and what better way to attract these buyers than by offering it as 4G enabled version.