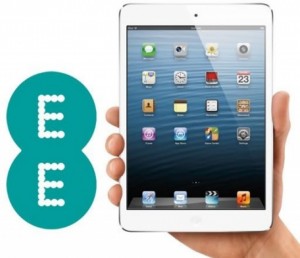 The 4G enabled Apple iPad Mini can now be bought from the UK's only 4G mobile operator. EE ( which owns Orange and T-Mobile ) is offering the iPad Mini with 4G access while Three, Orange and T-Mobile supply it with 3G.
EE sell a 4G enabled Apple iPad Mini for just £50 up-front for the 16GB with a 2 year contract at £36 per month. The cost is £100 for the 32GB version. You can also choose other options the cheapest being £26 per month with an upfront cost of £150.
The amount of 4G mobile data you choose with your price plan is crucial to a happy time with 4G and  speeds which are 5 times greater than 3G. The mobile data allowance varies from 3GB to 8GB. The trick here is to calculate the allowance that suits you best when you combine it with the free Wi-Fi that comes with the deal. The Wi-Fi is supplied by BT but is not yet up and running but EE say its coming soon.
4G.co.uk reviewed the 4G enabled Apple iPad 4 when our review concluded "It isn't a big leap up from the third generation iPad to the fourth generation tablet. Current owners don't need to upgrade unless you are after the built-in 4G LTE support". We are currently waiting for a unit to arrive with us so we can carry out our 4G Apple iPad Mini review.
EE also offer a 4G SIM only plan at £16 per month with 5GB of data and this can be cancelled at any time so there's no need to commit to a 2 year contract.
The choice for a 4G enabled Tablet was limited to the Apple iPad 4 or the Samsung Galaxy Note 2 so 4G.co.uk are pleased to see the Apple iPad Mini added to the mix.