TalkTalk isn't seen as a huge mobile player either in the business or consumer market, but that's something the company hopes to change.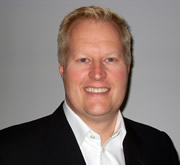 In a recent interview about business broadband, TalkTalk Business managing director Charles Bligh (inset|) told TechWeekEurope that "at the moment it's a dysfunctional market. For business broadband, BT has a 50-60 percent market share.
"Unlike the consumer market where there's four largely the same incumbents, there's one large player who is charging a huge amount of money. We are probably the second biggest ISP with less than 10 percent market share."
Of course that's broadband, not mobile, but TalkTalk is looking to deliver both in a single package. The company is already the only one which offers unlimited mobile calls for businesses as part of a broadband package and it plans to further make its offerings stand out by launching triple-play business packages later this year.
The company already does this for consumers, having signed a deal with O2 to become an MVNO, allowing it to offer 4G to its roughly 350,000 mobile customers and offering a consumer triple-play package, where customers get access to Broadband, phone and TV with one potentially quite low monthly bill.
With less than half a million mobile customers and less than 10 percent of the business broadband market TalkTalk is still a small fry in many areas and BT somewhat overshadows it, but hopefully its upcoming business triple play packages will boost its presence.
And when it comes to 4G the company already has advantages over some networks, as it only relies on O2 some of the time, because femtocells installed in TalkTalk's routers deliver superior coverage and speeds when indoors.
The company also hinted that it might start looking at converged communications, such as VoIP, though hasn't yet outlined any specific plans.
Of course prospective customers need to be aware of these advantages for them to be of any use, but TalkTalk is already seeing its business growing, thanks in part to its support of the government's super-connected cities voucher scheme, allowing small companies to apply for a grant of up to £3000 to have superfast broadband installed if they're based in one of 22 cities.
"It's been quite successful for us," Bligh told TechWeekEurope. "Over the past few months we've seen our fibre uptake improve noticeably, not massive, but noticeably."