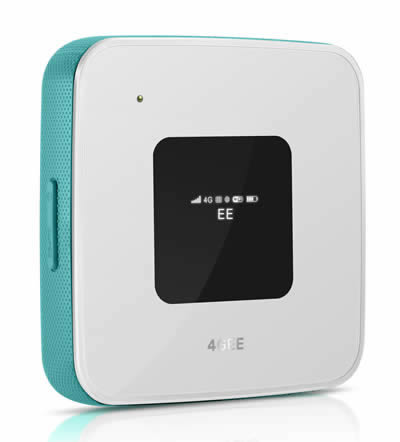 4G has revolutionised mobile internet, the problem is that most laptops, many tablets and various other Wi-Fi enabled devices don't support it, so if you're out and about on anything other than your phone you may find yourself cut off from the internet.
But you don't have to be and the Osprey from EE is one possible solution. The network has produced a video giving you a quick overview of its features, so check it out and then read on for a more in depth look at the device.
As you can see it's simply a little box available in black and yellow or white and aqua and once you've charged it and followed the simple setup instructions you can connect your devices to it. It's probably not something you'll use at home or the office where there's a reliable Wi-Fi connection, but it really comes into its own when on the train or the bus for example or when in a hotel room where there's either no Wi-Fi or it costs extra.
Whether you want to get some work done on a commute or just chill out in front of a movie it's far preferable to pair the Osprey with a laptop or tablet than trying to do either on a smartphone. It could also be a great way to keep kids entertained on a long journey, especially as you can connect multiple device to it, though be aware that it only has a 10 metre range and the more devices you connect to it the slower each connection will be.
Many smartphones support tethering, so you may already be able to share your 4G connection with other devices. The problem there is that not only are you eating into your phones data allowance but you're also draining its battery, so the Osprey could still be a preferable option.
It doesn't have to break the bank either, as it's available for £59.99 on pay as you go or free of charge on a £15 per month 24 month contract with 3GB of data. If you want more data or want to pay less each month there are other options too.
For example you can get it for £10 per month plus £19.99 upfront with 1GB of data or you can get 15GB of data for £20 per month, 25GB for £30 per month or 50GB for £50 per month, all of which are on a 24 month contract with no upfront cost and if you'd rather not be tied into a long contract there are even a couple of 30 day plans available.
So whatever your budget or needs there should be something suitable. Of course the Osprey isn't the only mobile Wi-Fi device available, but EE still has the most widespread 4G network in the UK, so if you want total confidence that you'll actually be able to connect with 4G speeds it's probably your best bet.