OpenSignal has released its latest State of Mobile Networks report for the UK in conjunction with Which?, offering a valuable insight into the country's 3G and 4G network performance.
The report measures the speed and availability of the UK's four main network operators - EE, O2, Vodafone, and Three - across the nine regions of England as well as Scotland, Wales, and Northern Ireland.
It's based on 500 million tests taken from more than 28,000 smartphone users between June and August of 2016.
There are some interesting and occasionally unexpected conclusions to draw from this latest OpenSignal report, particularly in relation to our own previous findings.
EE is the overall network winner, O2 the loser
According to OpenSignal's report, EE is comfortably the best mobile network of the four. It won four of the six categories that each network was tested for, and drew one of the remaining two.
EE had the fastest 4G download speeds (27.98Mbps) and combined 3G and 4G speeds, the lowest 4G latency, and the highest 4G availability (64.13%). It also had the joint lowest 3G latency along with Three.
This makes sense given EE's leading level of investment in 4G, which has resulted in its unique combined use of the two highest capacity network frequencies available: 1800MHz and 2600MHz. Earlier in 2016, this led 4G.co.uk to conclude that "EE is the only network that's covering all its bases".
Useful reading : Guide to 4G frequencies in the UK
EE's heavy investment in 4G LTE-Advanced network technology also plays a part. LTE-Advanced produces real world download speeds of more than 40Mbps. While far from ubiquitous, such areas are helping to push EE's average speeds up.
Returning to the subject of Three, it arguably took second place in OpenSignal's report with the highest 3G download speeds of the four, as well has having the second-highest 4G speeds (24.46Mbps). However, this needs to be tempered by the fact that the network has by far the worst 4G network availability of the four, both across the country as a whole and when broken down regionally.
Of the two other major UK networks, Vodafone had the joint lowest 3G latency with EE, while O2 didn't win a single category. Indeed, O2 came last in 4G speed, 3G speed, overall speed, and 3G latency; and third in 4G availability and latency.
EE's strong 4G speed and latency performance tallies with our own findings, based on separate reports from Ofcom and Speedtest. In March 2016 we concluded that "EE are still clearly the fastest 4G network with speeds up to 50 per cent faster than the other 3 networks". That advantage looks set to continue for the foreseeable future.
Useful reading : How fast is 4G? – 4G speeds and UK network performance
London has the slowest 4G, Northern Ireland the fastest
Most people would expect the UK capital to offer the best mobile network performance in the country, but that isn't necessarily the case. In terms of pure 4G speed, London comes in dead last with an average of 18.76Mbps.
That makes London the only territory in the UK to drop below 20Mbps. As we've previously stated, this is the typical real world 4G download speed you can expect as a UK smartphone user.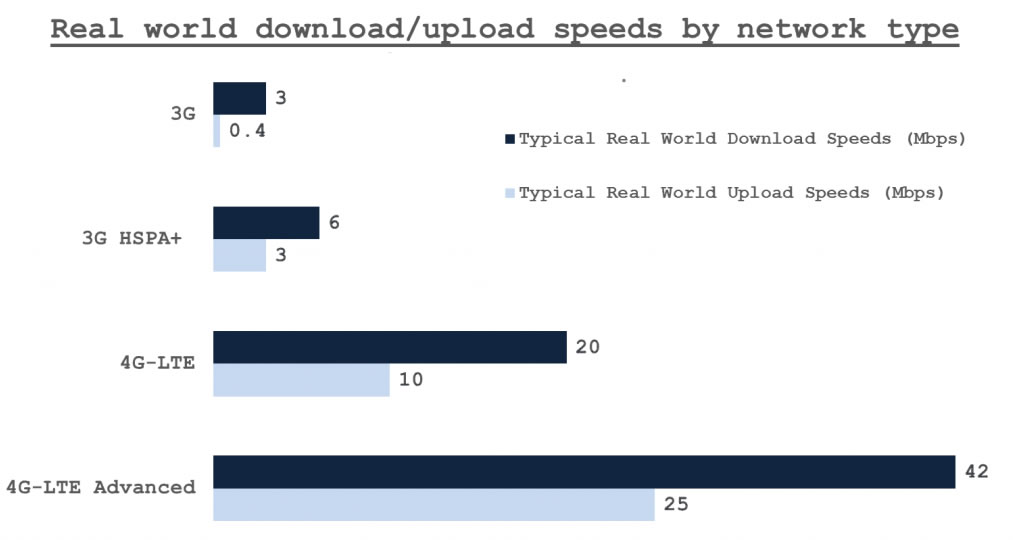 It's left to Northern Ireland to win the UK 4G speed test. Average speeds of 23.34 Mbps place it just ahead of Yorkshire and The Humber in second place with 22.85Mbps and the East Midlands in third with 22.78Mbps.
The reason for this disparity is likely down to the sheer weight of smartphone users in the capital. This network congestion inevitably impacts average speeds.
Coverage Checker : Check 4G coverage in your area
Northern Ireland wins in terms of overall speed too
When you factor in 3G performance, Northern Ireland still comes out on top with a combined average download speed of 15.7Mbps.
London fares a lot better using this combined 3G and 4G metric, though it's still only mid-table with 12.87Mbps. Yorkshire and The Humber is second once again with speeds of 15.05Mbps.
Bottom of the league by a considerable margin is Wales, with an average combined network speed of just 10.13Mbps.
London has by far the best network availability
Where the London area really comes into its own is in terms of network availability. Smartphone users in the capital can latch onto an LTE signal 69.7% of the time. Add in 3G and London smartphone users can get a data connection a massive 91.7% of the time.
Both of these figures are comfortably ahead of the other regions. Second-best for a third time, marking it out as the most consistently strong mobile network region in the UK, is Yorkshire and The Humber with 61.3% 4G availability and 86.7% mixed availability.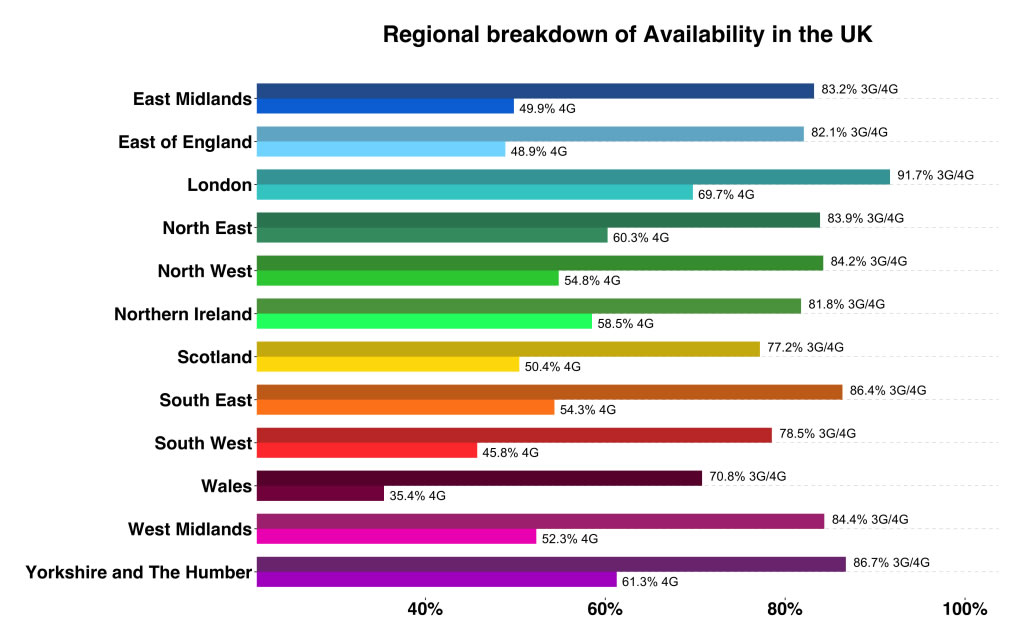 Wales takes the booby prize for a second time with 4G network availability of just 35.4% and mixed 3G and 4G network availability of 70.8%.
Besides Wales, the East Midlands, East of England, and the South West also supplied its users with a 4G signal less than half the time.
Overall, UK networks still have a long way to go in offering widespread 4G connectivity outside of London.