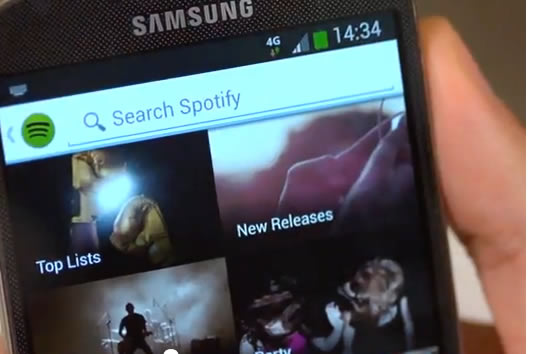 Spotify Premium Run Through on Vodafone 4G
Vodafone got off the starting blocks with their 4G launch as recently as the 29th August with only London being lucky enough to get 4G coverage.
Vodafone have just confirmed they will be adding 4G coverage in Birmingham, Coventry, Leicester, Nottingham or Sheffield on the 28th September which sounds good to us here at 4G. We looked at the advantages you would get on Vodafone 4G over both EE and O2 and these can be viewed here.
We briefly covered Spotify Premium on Vodafone in the above article and now Vodafone have completed a neat video telling us more about Spotify on Vodafone 4G and this can be seen below.
Vodafone are boasting about the fact that they are the only 4G mobile operator offering Spotify Premium for free when you take out a 4G mobile contract with them. This is a clever move as this will give all Vodafone 4G subscribers access to over 20 million tunes. You could choose to have Sky Sports Mobile TV over Spotify Premium but we see the Spotify as the more valuable free add on.
To get things moving with Spotify you need to download the Spotify App or if you have an an existing Spotify subscription you need to cancel this and transfer your account to use the free Vodafone one.
Of course once your all set up you can search for all your favourite artists, music and tracks. One of the neatest things with Spotify Premium is that you can set-up playlists and share them on Facebook.
Vodafone may be slow off the mark with its 4G launch but Premium Spotify for free will create a lot of interest for many potential 4G phone buyers and sounds like a very good move to us here at 4G.