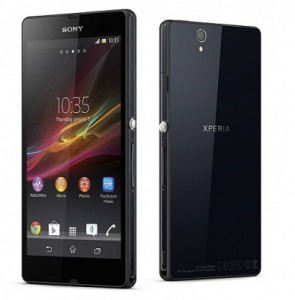 The Sony Xperia Z was officially announced at CES as everyone expected yet some are already calling the Xperia Z a stunner. We expect the Sony Xperia Z to be the first 4G enabled smartphone from Sony to go on sale in the UK with EE – currently the only 4G operator in the UK. The Sony Xperia Z will be in store to buy on 1st March, 2013.
Sony Xperia Z – 4G premium smartphone
A 4G premium smartphone also needs to be "slim-Jim" and the Sony Xperia Z doesn't disappoint here at only 7.9mm in depth, yet retains a strong and sturdy physique. A bonus is that it is also water and dust proof as well. The front and rear covers are made from durable tempered glass with anti-shatter film.
The Sony Xperia Z comes with a huge specification which includes a razor sharp 5″ full HD touch-screen display with 443 PPI ( 1920 x 1080 pixels ) and, of course, features advanced BRAVIA screen technology. The touch-screen display is also scratch-resistant.
Sony have included Google Android 4.1 but an update to 4.2 is already planned. The Xperia Z will be the first 4G Sony phone to come as PlayStation Mobile Certified in the UK - just so the gamers out there are aware of this.
The Xperia Z comes with the world's first camera image sensor with HDR video which excels at all light levels ( including bright sunlight ) and to take full advantage of this it comes with a 13 megapixel quick capture camera which builds upon the success of earlier Xperia phones with its Superior Auto Mode with 36 optimised modes, HDR activation and noise elimination techniques.
Sony Xperia Z – its power and battery stamina
A 4G premium smartphone needs a power-house behind it and the Sony Xperia Z benefits from a Snapdragon S4 Pro 1.5GHz quad core processor and 2GB of RAM. Power needs battery life and Sony have included "Battery STAMINA Mode" to increase its battery standby time by up to 4 times. This works by shutting down virtually everything that's not needed when the phone's screen is off.
A fuller specification for the Sony Xperia Z 4G premium smartphone is shown below and 4G.co.uk will be hunting down a review copy so that we can carry out our Sony Xperia Z Review.
Sony Xperia Z – the full specification
5 inch 1080 x 1920 full HD Reality Display with Mobile BRAVIA Engine 2
13 Megapixel fast action capture camera with Exmor RS
Full HD video recording
Secondary front facing 2.2 megapixel camera
Dust and water resistant durable glass display
Snapdragon S4 Pro quad-core ( 1.5GHz processor ).
2GB RAM
Battery STAMINA Mode
PlayStation Mobile Certification
NFC ( Near Field Communication )
3G / 4G / WiFi
MicroSD slot