[caption id="attachment_647" align="aligncenter" width="300"]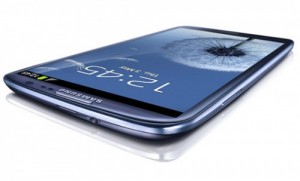 Samsung Galaxy S3 Ultrafast[/caption]
We undertook our Samsung Galaxy S3 Review ( the 4G version ) a few months ago when we put it though its paces - and liked the Galaxy S3 a lot. The problem is that for the time being you can only make use of the 4G version of the S3 on EE, so we're thrilled that Three have decided to launch the Samsung Galaxy S3 on their own Ultrafast service, giving you an alternate choice of network without having to sacrifice too much speed.
Although Ultrafast can't match the speeds of true 4G, Three claims that it is up to twice as fast as normal 3G, so you'll still see a substantial boost in speed. What's more Three have promised to upgrade Ultrafast customers to 4G at no extra cost as soon as they're able, so buying the Samsung Galaxy S3 on Ultrafast now won't lock you out of 4G in the future.
The Samsung Galaxy S3 might be nearly a year old now but it's still an impressive handset. With a stunning 4.8 inch Super AMOLED display, a 1.4 GHz quad-core processor, an 8 megapixel camera and 1 GB of RAM it's a true powerhouse of a phone. Couple that with a decently large 2100 mAh battery, Android 4.1, full HD video recording and up to 64 GB of internal storage (plus support for micro SD cards) and it's a real winner.
It even goes beyond mere specs with innovative features, such as knowing when you're looking at it so that the screen will never turn off when you don't want it to. We summed up our review by saying that "you won't be able to pick out one reason why you love this phone exactly, but you will most definitely love it" and we stand by that. In short it's no wonder that it became the best selling smartphone in the world.
The Samsung Galaxy S3 is available now on Three's Ultrafast service and can be purchased in Pebble Blue and Marble White from all Three stores or their website.
There are a couple of different plans available, first up there's the 'Ultimate Internet 500 plan', which will set you back £34 a month along with an upfront cost of £29. Alternatively Three are offering it on their 'The One Plan' for £36 a month plus a £29 upfront cost, both of which come with unlimited data- which will come in handy when you're making full use of their Ultrafast service.
If you'd rather not be tied into a contract Three are also selling the handset on pay as you go for £449.
Alternatively if you'd rather experience true 4G speeds it's been available on EE for a while, albeit at a higher price- particularly if you actually want much data. Or if you can live with sluggish 3G the Samsung Galaxy S3 is available on pretty much every network under the sun.