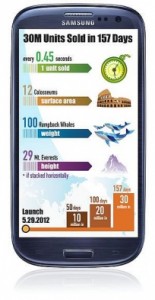 Samsung has confirmed that the Samsung Galaxy S3 has sold over 30 million units in its first five months since launch in May this year. The Samsung Galaxy S3 LTE ( the 4G version ) has just launched in the UK and 4G.co.uk see sales getting a further boost with the 4G version now on sale.
Full details of the 4G Samsung Galaxy S3 can be seen here. We wonder which you would prefer the 3G version or the 4G version which is five times faster at downloading mobile web pages and files.
Going back in time, the Samsung Galaxy S2 sold 10 million units in the same time period ( five months ) so it seems to us here at 4G.co.uk that the S3 is three times more popular than the S2. Another interesting point is that the Samsung Galaxy Note 2 has had a similar success selling over 2 million units since going on sale in late September this year. It seems to us that consumers like Samsung phones and tablets more and more. The 4G Samsung Galaxy Note 2 is on sale with EE currently.
The above photo shows some interesting facts about how big Samsung think the Samsung Galaxy S3 sales have reached by displaying the figures in various ways.
"The GALAXY S III continues to be a runaway favourite with customers around the world. Meeting this sales milestone in five months sets another record for Samsung, and we are extremely proud and yet motivated to continue to provide our customers with products that they love," said JK Shin, President and Head of IT & Mobile Communications Division at Samsung Electronics. "On behalf of Samsung Mobile, I appreciate millions of customers around the world that have chosen the Samsung GALAXY S III."