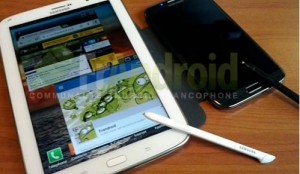 This year's Mobile World Congress in Barcelona next month should see the much anticipated launch of the new Samsung Galaxy Note 8, Samsung's new 8 inch tablet. But it appears from a leaked image (see above) that one or two surprises are possibly in store.
The first is support for the S-Pen interface along with a dedicated home screen button – both useful additions. But by far the most intriguing is that the Note 8 appears to allow calling for the first time, presumably to cater for those who live with their tablet 24/7 or have large pockets.
It's not clear how this will work, whether by Bluetooth or speaker (surely no one is going to hold an 8 inch tab to their ear?) but however it does, it's likely to give Samsung an edge in this massively competitive market when battling head to head with the iPad Mini, Google Nexus 7 and the Amazon Kindle Fire, its three main rivals in this sector. Or at least it will be for some users.
The Samsung Galaxy Note 8 comes with a 1.6 Ghz Quad-Core processor with 2GB of RAM and 16GB of on board memory. It also comes with a 5 mega pixel rear facing camera and a 1.2 mega-pixel rear facing camera, which can be used for video calling for the first time. To top things off the Galaxy Note 8 will support WiFi, 3G, Bluetooth, NFC and microSD.
The Samsung Galaxy Note 8 arrives pre-loaded with Android's Jelly Bean, and we're looking forward to a fast, slick and above all smooth experience but rumours have it that all this will come at a price: some Austrian e-retailers are putting it online already, starting at a hefty 450 Euros. Have Samsung misjudged the public's desire for a tablet/phone at a premium price, or is the initial outlay still consumers' first priority? Time will tell but we don't expect masses of users to ditch their handsets just yet.
As ever, more news from 4G.co.uk and our Samsung Galaxy Note 8 Review will come as soon as we get a review copy from Samsung.
Source