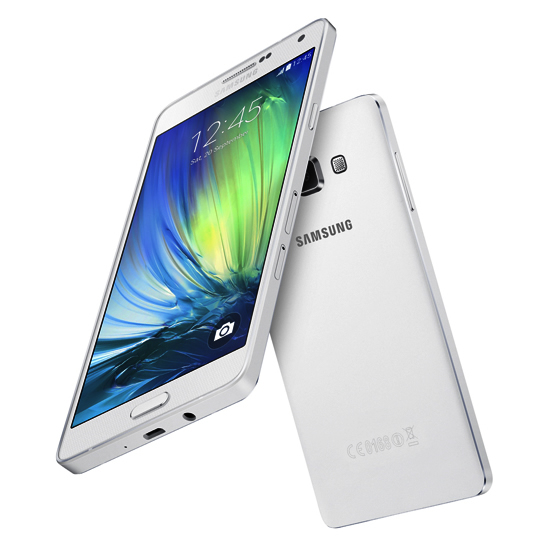 Samsung seemingly releases a never ending stream of
4G phones
, but while many feel like filler the
Galaxy A7
could genuinely stand out, with its super slim 6.3mm thick build, premium metal frame and octa-core processor.
That processor has four cores clocked at 1.8GHz and four at 1.3GHz, so it's both fast and can switch between them to save battery when not as much power is needed. There's also 2GB of RAM packed in, so this is a phone that should almost have flagship-rivalling power.
It's not just the processor that's fast either, as the Galaxy A7 also supports Category 4 4G for download speeds of up to 150Mbps and upload speeds of up to 50Mbps, so whether you're browsing, streaming, downloading or sharing your latest photos you can do so at high speeds even when you're out and about.
While the Galaxy A7 is slim it's not small, with a 5.5-inch display giving you plenty of room to enjoy media, though it's not super sharp for a screen of that size, at 720 x 1280.
The camera is another tick in its favour, as the Galaxy A7 has a 13 megapixel snapper on the back and a 5 megapixel one on the front, making it well equipped for all types of smartphone photography.
Selfies in particular have had some attention lavished on them though, as there are modes such as 'Auto Selfie' which lets you take a picture by waving your hand or giving a voice command and 'Ultra Wide Shot' which lets you fit more people in the frame.
Phone calls get a boost from 'Always Clear Voice Auto Control' which reduces background noise and Private Mode ensures you can keep your data safe and secure.
Speaking of data, you've got 16GB of built in storage plus a microSD card slot with support for cards of up to 64GB, so there should be plenty of space to store photos, videos, apps and music. The Galaxy A7 also comes with NFC, so you can use it for contactless payments and with a 2600 mAh battery plus Samsung's powerful Ultra Power Saving Mode it should have a lot of juice.
Its operating system is a little dated as it's on Android 4.4 KitKat but hopefully it will get updated to Lollipop at some point. The only questions still surrounding it are exactly when it will be available and how much for. This isn't a flagship but nor will it be cheap, we'd guess it will retail for around £400 and as it's been announced it should land soon.
So this isn't the cheapest way to get a 4G handset, but if you want a phone that looks high end and almost has flagship specs but hopefully costs a fair bit less then the Galaxy A7 could be well worth considering.