[caption id="attachment_1237" align="aligncenter" width="300"]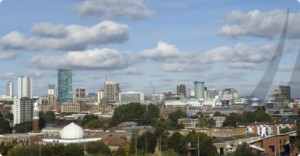 Ofcom Reserves 4G Spectrum for Fourth Mobile Operator in 4G Auction[/caption]
The timetable for the roll-out of the UK's 4G services has been announced by Ofcom today (24 July). It will see the 4G spectrum auction start at the end of 2012, with bidders entering the fray early in 2013.
Ofcom also announced that it will be reserving some of the 4G spectrum for a fourth operator, which leaves the door open for Three to grab a part of the 4G roll-out. Other operators who may be interested in bidding for the reserved spectrum include BT and Virgin.
Ofcom said that allowing for a fourth contender would encourage 'better services at lower prices', stating that the fourth operator 'could be either Hutchinson 3G or a new entrant altogether'.
A cap has been put on the amount of spectrum operators are allowed to bid on – the overall spectrum cap will be set at 2x105 MHz, while the sub 1-GHz spectrum cap is being set at 2x27.5 MHz, as was proposed in the January consultation by Ofcom.
The caps were necessary to ensure competition, said Ofcom, and to make sure the amount of spectrum held by networks is balanced.
Other conditions will apply to some purchases. The purchaser of one lot of 800Mhz spectrum will be required to offer mobile broadband for indoor reception to at least 98% of the UK population with a deadline of the end of 2017. Ofcom believes the move will encourage other networks to offer similar nationwide coverage.
The 4G auction will see the equivalent of three-quarters of the mobile spectrum being used today go up for sale – that's 80% more than the spectrum offered in 200's 3G auction. There will be at least a couple of spectrum bands offered – 2.6Ghz and 800MHz. The lower frequency spectrum is suitable for widespread mobile coverage, while the 2.6Ghz band is suitable for offering faster speeds.
The joint combination of low and high frequency spectrum will enable 4G mobile broadband services to be offered across the UK, and make sure there is enough capacity in urban areas that experience high demand.
Ed Richards, Ofcom chief executive, said: 'The 4G auction has been designed to deliver the maximum possible benefit to consumers and citizens across the UK. As a direct result of the measures Ofcom is introducing, consumers will be able to surf the web, stream videos and download email attachments on their mobile device from almost every home in the UK.'
Teams at O2, Three and Vodafone are currently going through the details of the more-than-1,000-page document.
A Three spokesperson said: 'Ofcom's decision on the structure of the spectrum auction will have a lasting effect on the choice of services and value available to mobile consumers.' They added that they were going through the document to 'evaluate what it means for both consumers and competition in the UK mobile market'.
A spokesperson for Vodafone said: 'Ofcom appears to have created a mechanism to deliver the spectrum needed to run competitive 4G services and we welcome the work it has done. We also support the regulator's desire to see 4G services delivered to as many people as possible.'
An O2 spokesperson said the detailed rules for the auction were 'a significant step towards 4G launch in the UK. We will need to study the package in detail before responding to the Notice on the Regulations, which puts the rules into law.'