[caption id="attachment_3440" align="aligncenter" width="300"]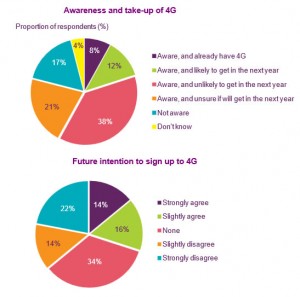 Ofcom Reports Low Demand for 4G[/caption]
Ofcom have published their annual communications market report ( includes 4G Telecoms ) and while it's a hefty read (coming in at 434 pages) it includes some interesting findings.
Chief among them perhaps is the fact that the future isn't looking that bright for 4G. Ofcom found that 79% of adults with a smartphone (or almost 4 in 5) are aware of 4G, so obviously EE's marketing has done the trick. However, only 30% of smartphone users currently plan to upgrade to 4G when their contract is up.
Just 8% of the people surveyed claimed to already be using EE's 4G services and only 12% said they'd like to upgrade to 4G in the next 12 months.
So why the small numbers all round? Well, it mostly seems to come down to cost. A recent YouGov survey found that as much as 46% of people surveyed thought that the data charges were too high and 37% were worried about the cost of upgrading to a 4G-ready handset.
Just 29% of people were uninterested in increased data speeds, so it seems that if the price was right then 4G could well take off, as data speeds are the main selling point with 73% of those surveyed claiming they'd like faster download speeds and 59% craving faster streaming.
Of course it's early days for 4G yet and many of the concerns around price may soon evaporate as with other networks entering the market soon there's likely to be a price war, driving the costs down all round. Equally the likes of the Nokia Lumia 625 are making 4G-ready phones affordable too, so the cost of a new handset may not be such an issue for long either.
Whether that will be enough to change the minds of the roughly 70% of smartphone owners who don't currently plan to upgrade to 4G remains to be seen.