[caption id="attachment_588" align="aligncenter" width="300"]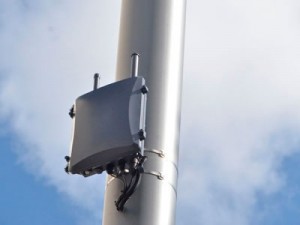 London Wi-Fi from O2 Represents a First Step Towards Heterogeneous Networks[/caption]
O2 has announced the launch of its public Wi-Fi in London, marking the beginning of a bid to grab sites for small cells. Small cells will be key in the rollout of 4G LTE networks – the networks need base stations situated close to end users in order to meet the demand for capacity in high-population areas in urban settings.
O2 is using Ruckus Wireless SmartCell 8800s access points for its Wi-Fi offering. These small cells are able to support LTE, which means when O2 starts to roll out its 4G network (which should be late in 2013 if the upcoming 4G spectrum auction runs to plan) the operator will already have small cells and sites set up in place.
The SmartCell 8800 can easily be mounted on buildings or lampposts. Inside it has a carrier grade, modular multi-radio system as well as an integrated adaptive antenna. This means that the cell is able to support a number of licensed and unlicensed radio technologies including small cell 3G and 4G radios, high-speed dual-band 802.11n Wi-Fi, and a 5GHz radio for wireless backhaul.
Senior director of marketing at Ruckus, Steven Glapa, said: 'Our technology provides radio performance, along with a seamless subscriber experience and it maintains a seamless experience for the guys running the network and plugging it into their packet core at the backend. So, it really is carrier class equipment.'
The Ruckus's SmartCells are ready for both Wi-Fi 802.11ac and LTE when they come to the UK. Down the line, operators will be able to tie the Wi-Fi back into their authorisation, authenticating, and accounting systems, but for the moment O2 is only offering a speedy Wi-Fi service.
'I really think the operator community at large is taking the integration of Wi-Fi one step at a time,' says Glapa. 'The expectations are grand, but it is definitely worth doing this one step at a time.'
O2 has teamed up with several suppliers to set up its Wi-Fi network – including Cisco and Cambridge Broadband Networks, which is providing its point-to-multipoint VectaStar microwave technology.
Ruckus Smart Mesh technology is also being used for backhaul – it makes use of self-organising network (SON) principles, and its ChannelFly predictive channel management technique as well as Ruckus BeamFlex adaptive antenna arrays to set up a high-speed wireless mesh backbone.
The nodes can adapt automatically in line with environmental conditions to make sure that the signal is consistent and strong. A cable only needs to run to one access point, and then that witlessly forms a mesh with another four or five access points, explains Glapa: 'We are seeing a combination of wireless and point-to-point and point-to-multipoint connections as well as fibre,' he says. 'You have to use a variety of techniques for small cells and backhaul for somewhere like London where you cannot get cable to every small cell.'
Glapa added that in the next two years Wi-Fi 802.11 Release 2 will appear. This will bring with it multi-use, MIMO (multiple in multiple out) technology, which will enable Wi-Fi to work like a cellular network.
'That will provide a real hetnet (heterogeneous) network (one that uses a combination of multiple radio technologies seamlessly). There are a lot of things to sort out on hetnet architecture still, but in the meantime Wi-Fi is super useful right away,' says Glapa.