[caption id="attachment_622" align="aligncenter" width="264"]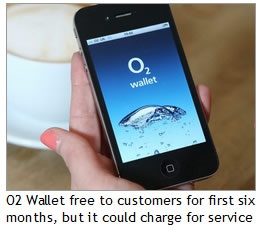 O2 has launched a new mobile service.[/caption]
O2 has launched a new mobile service, which will be free to customers for the first six months, although the operator has still not announced if they will be charged after that. O2 launched Wallet and it is available as an app for iOS, Android and BlackBerry, and allows consumers to transfer as much as £500 to a UK mobile phone number of their choosing.
Customers are able to add debit and credit cards or can top-up an account at more than 30,000 locations, which include O2 shops. A top-up device can be purchased with a prepaid Visa card, which would allow them only to spend as much as they have put in the account. A barcode scanning facility lets customers see different prices from more than 100 retail outlets including Tesco Direct, Sainsbury Direct, Debenhams and Comet,
The operator stated that O2 Wallet would also feature NFC (near field communications) in the future, in order to allow customers to make contactless payments, buy tickets and top-up airtime. Those with compatible handsets will also be able to get to the service via the web.
MD of O2 Money, James le Brocq, said that O2 Wallet would offer the benefits of mobile money to more UK customers than any other service or product on the market. 'With O2 Wallet, it's easier to track money, track expenditure and pay swiftly and securely, all using your mobile,' he said, adding that the company believes it will 'transform' how consumers manage finances and spend their money.
The service had been due for launch at the end of 2011, but the operator said it had delayed release to allow for more testing. During a press conference, Le Brocq showed how the system worked - and while a fee of 15p was taken for every pound transferred, he said the decision on making charges had not been made as yet.
'It's a free service for at least the first six months,' said le Brocq. 'We are aware Barclays offers its Pingit service for free. It's an option to charge but the decision has not been made.'
A question was asked about why the app is not offered to Windows Phone owners, to which he replied that it came down to managing 'finite resources'. 'Windows is a great platform but I wanted to get service to market across a broad spectrum as early as possible,' he said.
Eden Zoller, who is principal analyst at Ovum, said O2 Wallet was 'one of the most comprehensive of its kind' offered by a European operator. But he added that the lack of NFC support was a 'notable omission'.
He added that there will be pressure from companies such as Google, which are likely to offer similar propositions with mobile advertising, something that operators have little experience in.