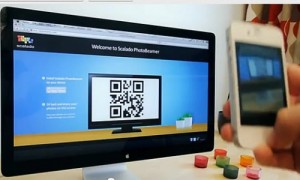 Nokia have announced that users of the Nokia Lumia 920 and Nokia 820 4G phones now have access to PhotoBeamer which is an App that is used to display the photos on your smartphone on any display screen – whatever size. The new PhotoBeamer App can be downloaded from the Windows Phone store and is available now.
Once you've installed the PhotoBeamer App and your displaying photobeamer.com on the display screen simply aim your Lumia's camera at the QR code on the display screen and your photographs will be automatically be relayed onto the display screen. The QR code is unique each time photobeamer.com is opened for the display screen. It can be seen working in the video below.
The photos actually go via the PhotoBeamer website but you won't notice that of course. Nokia recently acquired Scalado who invented PhotoBeamer and Nokia have wasted no time in getting the new Nokia PhotoBeamer App live for the Nokia 920 and 820 4G phones. PhotoBeamer also works on 3G and Wi-Fi and with every type of display browser. Nokia also confirmed that the PhotoBeamer App will be ready for all Windows Phone 7.5 devices in 2013.
4G.co.uk have reviewed the Nokia Lumia 920 and the Nokia Lumia 820 and see the addition of the PhotoBeamer App as a worthwhile addition - increasing the number of reasons to head back to Nokia and buy one of these two 4G phones.
The Photobeamer App needs to be downloaded directly onto your phone - see here.