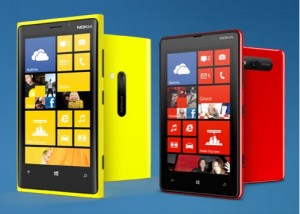 Nokia has today confirmed that it is shipping the Nokia Lumia 920 and 820 to the UK this week. These are both 4G phones and will be sold by EE ( Everything Everywhere – which owns Orange and T-Mobile ).
EE previously said that the Nokia Lumia 920 and 820 would be ready to buy in November and they will be. Of course, the Nokia Lumia 920 is the flagship model of the range and both these Lumias are running Windows Phone 8.
The Nokia Lumia 920 and the Nokia Lumia 820 were previewed by 4G.co.uk a while ago and you can see the full details by clicking the links above. Of the two, we feel the choice must be for the Nokia Lumia 920 as it is the flagship model and after all comes fully beefed up with a 4.5-inch LCD IPS touchscreen, a 1.5GHz dual-core Snapdragon S4 processor, Puremotion HD+, 1GB of on-board RAM, 32GB of memory, Megapixel Carl Zeiss Camera with LED Flash, Clear Black display, PureView camera technology, Optical Image Stabilisation and features built-in wireless charging.
With 4G now launched in the UK ( well in 11 cities ) you can experience download speeds five times faster than 3G. The price of the Nokia Lumia 920 on 4GEE starts at £36 per month for only 500 megabytes of mobile data and the phone itself costs £130. At the other end of the price range £56 a month will get you 8 gigabytes of date and the device costs £20.
EE have some great "4G Ready" phones in their current portfolio and the Nokia Lumia 920 and 820 are great additions.