[caption id="attachment_5665" align="aligncenter" width="568"]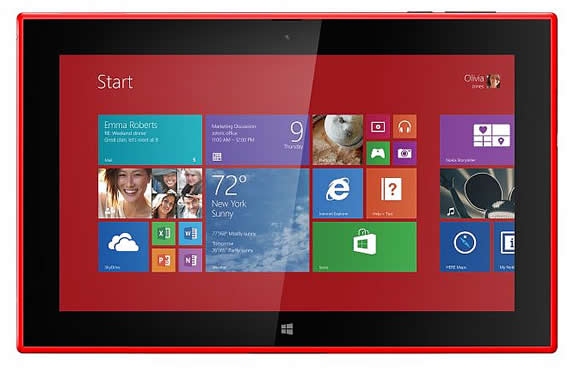 The new Nokia Lumia 1520 Tablet
[/caption]
Nokia Lumia 2520 Tablet : The First Windows Tablet from Nokia
Nokia has formally announced the Nokia Lumia 2520 Tablet its first ever Windows tablet. Nokia also announced two phablets the Nokia Lumia 1520 and the Nokia Lumia 1320.
Checkout the Nokia Lumia 1520 and Lumia 1320 phablets here.
The Nokia Lumia 2520 tablet runs on the Windows RT 8.1 operating system which is designed to run on tablets and will enhance the whole viewing experience. It comes pre-loaded with Microsoft Outlook and Office which we are sure will be of interest to many business users as well as consumers.
Physically it weighs just 1.35lbs or 615 grams and measures just 8.9mm in depth. The full measurements are : 267 x 168 x 8.9 mm.
The specification for the Lumia 2520 tablet places it in direct competition with the Apple iPad 4 and the Sony Xperia Z amongst others.
Nokia Lumia 2520 Tablet Specification
The Lumia 2520 tablet has an impressive display measuring 10.1 inches and has a full HD display with a resolution of 1920 x 1080. It features Gorilla Glass 2 and also has a AHIPS Capacitive Multi-Touch Display.
It comes with 4G LTE connectivity and is powered by a 2.2GHz Quad Core Qualcomm Snapdragon 800 with 2GB RAM and 32GB of on-board memory. It comes with 2 cameras, the main camera is 6.7 megapixels with an auto focus ZEISS optics lens. The secondary camera is 2 megapixels for video calling.
Other specification details include : NFC, Bluetooth 4.0, Stereo front facing speakers and the whole tablet is powered by its 8000 mAh battery.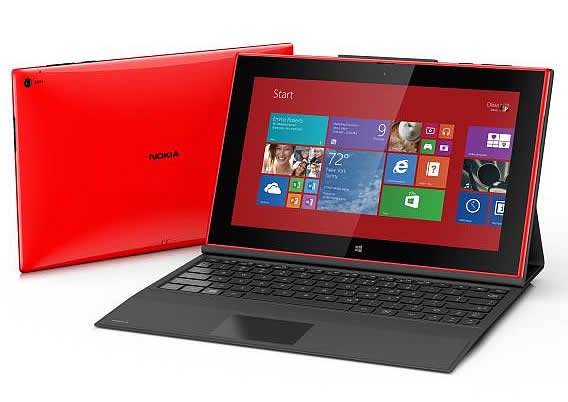 Additionally, you can add a Power Keyboard to the tablet which then gives you a QWERTY keyboard, an extra five hours battery time and the use of two USB ports. The Power Keyboard can be seen above.
Colours, Price and Release Date
The Nokia Lumia 2520 comes in red, cyan, white and black and will cost approximately £315. Nokia has confirmed the availability date but Nokia stated it would be coming soon as we would anticipate a release date before the end of 2014. Nokia has released a hands-on video for the Nokia Lumia 2520 and this can be viewed below.
Nokia Lumia 2520 Full Specification Details
Overall Dimensions : 267 x 168 x 8.9 mmWeight: 615g ( 1.35lbs )Display Screen size: 10.1 inch full HD displayScreen Resolution: 1920 *1080 pixelsPixels Per Inch (PPI) : 218 PPI Processor: 2.2GHz Quad-Core Qualcomm Snapdragon 800 RAM: 2GB Battery capacity :  8000 mAH Onboard Memory: 32GB (plus microSD support) Camera :  6.7 mega-pixel, 2 mega-pixel for video calling Operating system: Windows RT 8.1 Ultrafast / 3G / 4G LTE : Yes / Yes / Yes Bluetooth / NFC : Yes / Yes Colours : Red, Cyan, White and Black Launch Date:  Q4 2013 Price : £315 to be confirmed