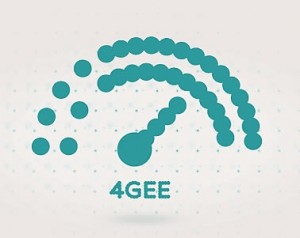 Thanks to being granted a substantial head start, EE have been racing ahead in the 4G stakes. While O2, Three and Vodafone have only just secured 4G spectrum at the recently concluded auction, EE launched a 4G network (imaginatively titled 4GEE) back in November of last year. Since then they've been expanding their coverage rapidly, covering more and more towns and cities every month.
Indeed it was only back on the 27th of February that we were reporting that EE had expanded into 27 more towns, and now already the company have announced that they've turned on 4G in another nine towns and cities across the UK.
The new towns that have been added are Barnsley, Chorley, Coventry, Newport, Preston, Rotherham, Telford, Walsall and Watford. That brings the total number of 4GEE enabled towns and cities up to 37, which puts EE both ahead of schedule and way ahead of the competition.
EE's 4G service currently covers the homes and businesses of more than 45% of the UK population- which is a good start but still a long way from total coverage. However by June EE aim to be in at least 72 towns and cities, as well as the surrounding suburbs and rural areas. That will nearly double the total number of covered places, but given that they've achieved all of their current coverage in just around 4 months it's easy to believe that they will manage at least that by the summer.
EE haven't stated what percentage of the UK population those 72 towns and cities will equate to, instead simply saying that it will be well over half. Given that they're already at over 45% now that's not really saying much. They have at least specified which towns and cities will make up the rest of that 72, with Aldershot, Ashford, Basildon, Basingstoke, Blackpool, Bradford, Bracknell, Camberley, Colchester, Crawley, Doncaster, Dudley, Farnborough, Guildford, Horsham, Huddersfield, Leatherhead, Leicester, Luton, Maidstone, Milton Keynes, Oldham, Oxford, Reading, Redhill, Reigate, Sevenoaks, St Albans, Stevenage, Tonbridge, Royal Tunbridge Wells, Warrington, West Bromwich, Wigan and Woking all due to get 4G in the coming months.
Right now 4GEE is available in Amersham, Barnsley, Belfast, Birmingham, Bolton, Bristol, Cardiff, Chelmsford, Chorley, Coventry, Derby, Edinburgh, Glasgow, Hemel Hempstead, Hull, Leeds, Liverpool, London, Maidenhead, Manchester, Newbury, Newcastle, Newport, Nottingham, Preston, Rotherham, Sheffield, Slough, Southampton, Southend-on-Sea, Stockport, Sunderland, Sutton Coldfield, Telford, Walsall, Watford and Wolverhampton.
EE have already launched a variety of 4G enabled devices, including the iPhone 5, Samsung Galaxy S3, iPad Mini, Blackberry Z10, Huawei Mobile Wi-Fi and HTC One, with more sure to be added soon.
In the meantime EE claim that their engineers are continually working on increasing network density in areas that already have 4GEE coverage, so that speeds and reliability will improve. Additionally they aim to provide 4GEE coverage to 98% of the UK population by the end of 2014.