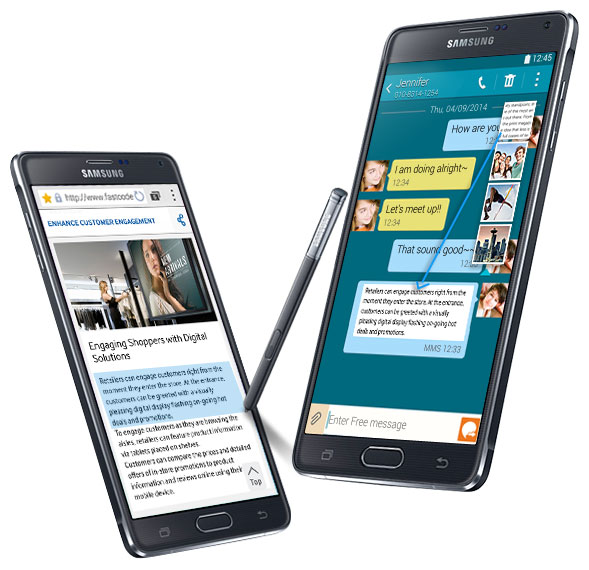 Super speedy Galaxy Note 4
Samsung is known for pushing ahead with the latest and greatest 4G technology and the new LTE-A Tri-Band CA enabled Galaxy Note 4 is the latest example of that. It supports peak download speeds of 300Mbps, which is four times faster than standard 4G.
The handset achieves this by receiving three different frequency bands and aggregating them into a single connection, allowing users to download ten songs in just a single second or a 700MB video file in around 19 seconds.
Although 300Mbps is the peak speed that it can currently achieve that's only because of the limitations of mobile networks, which currently don't deliver more than a Category 6 network service.
In future the LTE-A Tri-Band CA enabled Galaxy Note 4 will be LTE-A Category 9 ready, allowing it to reach download speeds of up to 450Mbps. Samsung expects that technology to start being commercialised later in 2015, but don't get too excited because we may not see it in the UK for a while longer.
In fact currently no UK network is even equipped to get 300Mbps speeds out of the handset. EE has brought 150Mbps LTE-A to parts of London, while Vodafone has brought similar speeds to London, Birmingham and Manchester and both networks are likely to continue expanding their LTE-A coverage.
But that's still only half the speed this version of the Galaxy Note 4 is currently capable of in certain countries and a third of the speed it will eventually be capable of, while even getting 150Mbps in the UK currently limits you to two networks and a few cities.
There are also a handful of other phones that already support 150Mbps speeds, including the standard version of the Samsung Galaxy Note 4, which is identical to this in every other way, so right now if you live in the UK there'd be no advantage to owning the LTE-A Tri-Band CA enabled Galaxy Note 4.
For that reason we doubt we'll actually see it on these shores for a while if at all, but if it does launch it's still worth consideration, since it will futureproof your mobile data speeds well into the future.
Or you could just move to South Korea where you'll likely be able to enjoy 450Mbps speeds before the year is out.
Looking to find out about the best 4G phones to buy now?