[caption id="attachment_3300" align="aligncenter" width="300"]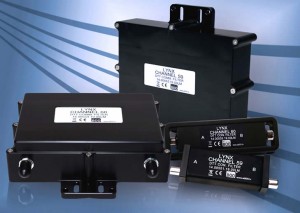 New Filters Will Prevent 4G from Causing TV Interference[/caption]
4G is coming in a big way, for the most part that's good news, but the 800 MHz 4G signal could cause interference with digital terrestrial TV reception, particularly in areas near to a 4G mast or places where Freeview TV reception is weak to begin with.
Thankfully it's a problem that Link Microtek have been working on and claim to have solved. The company won a contract earlier in the year from Digital Mobile Spectrum Limited (or DMSL- a company jointly owned by O2, Vodafone, Three and EE), to create and supply filters designed to prevent the 800 MHz 4G signal from interfering with television reception.
The resulting 4G filters are called 'LYNX filters.' They feature low insertion loss and high rejection rate of LTE signals and are available in both single-dwelling (for example a house) and multi-dwelling (for example a block of flats) variants.
The multi-dwelling versions are designed to be installed between the receiver antenna and the amplifier and distribution equipment. They are sealed to IP65 standard and have an operating temperature of -20 to 65 degrees Celsius, which should make them suitable for both indoor and outdoor use. These filters would of course be installed by a professional.
The single-dwelling versions are designed to be DIY friendly as they are simply installed between the antenna cable and TV receiver. They come with Velcro tape to make it easy to mount them, but if necessary they can also be supplied with a separate 140mm long cable, allowing for more flexible placement.
In areas where interference is expected or is already being experienced the DMSL will provide each household with one filter. In theory you shouldn't need to contact them to get one- they'll just send it out to you, hopefully before 4G becomes a problem.