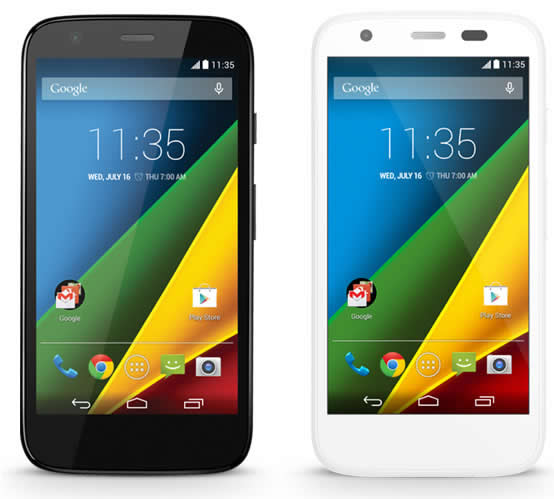 Moto G gets 4G connectivity upgrade
The Moto G was launched back in November, 2013 with a price of £135. It is still a great value smartphone but it was difficult to overlook the two main shortfalls that came with it.
The first was that it lacked 4G connectivity whilst the second was its lack of expandable storage. The only other difference we can find is that the original shipped with Android 4.3 Jelly Bean (updateable to KitKat over the air) while the 4G version will ship with Android 4.4 KitKat.
One other point is that at launch the Moto G 4G version will only be avaialble with 8GB of RAM only, i.e. the original 16GB option will not be avaialble.
The great thing with the Moto G 4G version is that it costs just £149, while the non 4G version now costs £119.
The Moto G 4G LTE comes with a Quad core 1.2 GHz Snapdragon processor, a 4.5 inch HD 720p capacitive touchscreen with a PPI of 326, a 5 megapixel camera with autofocus & flash and now has a microSD card slot (up to 32GB). The full specification is shown below.
The pricing of the 4G smartphone seems to place it in direct competition with other similarly price 4G smartphones like the Nokia 625 and the awaited Nokia 635.
The Moto G 4G is expected to be on sale in early June and will come in black and white colour options.
Motorola Moto G 4G LTE Specification
Android 4.4 KitKat Quad core 1.2 GHz Snapdragon 400 processor 4.5 inch HD 720p capacitive touchscreen (1280 x 720 PPI = 326) 5 MP camera - autofocus & flash 1.3 MP front facing camera for video calling 1 GB RAM microSD card slot (up to 32GB) 8 GB storage versions Changeable coloured backplates