[caption id="attachment_3799" align="aligncenter" width="407"]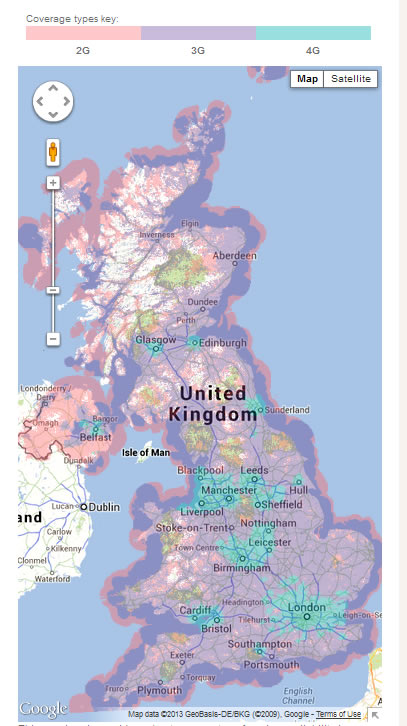 Map above shows EE's 4G coverage across the UK.
[/caption]
4G Milestone Achieved by EE.
Today EE will finally have some 4G competition from O2 and Vodafone, but with EE's latest expansion bringing 4G coverage to 10 more towns and cities (for a total of 105) they've probably not got much to worry about.
The latest ten places to receive 4G from EE are Accrington, Ashford, Bicester, Colchester, Guildford, Milton Keynes, Redhill, Sevenoaks, Tunbridge Wells and Woking. With this latest milestone EE now provides 4G coverage to the homes and businesses of 60% of the UK population.
Accrington was the 100th town to receive 4G and EE celebrated the occasion by bringing local footballing hero Ian Rush back to the town to present James Beattie (the manager of Accrington Stanley) with 4G from EE.
As well as switching on 4G in more places EE has also increased the number of places that now receive double speed 4G, giving them average download speeds of 24-30Mbps. Five more towns have seen a speed increase, specifically Sunderland, Sutton Coldfield, Walsall, West Bromwich and Wolverhampton. They join Belfast, Birmingham, Bristol, Cardiff, Derby, Edinburgh, Glasgow, Leeds, Liverpool, London, Manchester, Newcastle, Nottingham, Sheffield and Southampton,
Olaf Swantee, Chief Executive Officer of EE said: "As the pioneers of 4G in the UK, we've made a commitment to deliver not only the biggest 4G network, but the fastest too. It's a commitment we're delivering on day in, day out for the people and businesses of Britain. Today we reach our 100th 4G town and double the 4G speeds in five more locations. But we're not stopping there. With more devices, more unique plans and more coverage than ever before, 4G from EE really is paving the way for the UK's digital revolution."
In all, the list of towns and cities that now receive 4G is as follows: Accrington, Aldershot, Altrincham, Amersham, Ashford,  Ashton-under-Lyne, Aylesbury, Barnsley, Basildon, Basingstoke, Bedford, Belfast, Berkhamsted, Bicester, Billericay, Bingley, Birmingham, Blackpool, Bolton, Bracknell, Bradford , Brentwood, Bristol, Camberley, Cardiff, Crawley, Chatham, Chelmsford, Chorley, Colchester, Coventry, Derby, Dewsbury, Doncaster, Dudley, Edinburgh, Farnborough, Farnham, Gillingham, Glasgow, Guildford, Harpenden, Hemel Hempstead, High Wycombe, Hitchin, Horsham, Huddersfield, Hull, Leatherhead, Leeds, Leicester, Letchworth, Lichfield, Liverpool, London, Loughborough, Luton, Lytham St Annes, Maidenhead, Maidstone, Manchester, Marlow, Merthyr Tydfil, Milton Keynes, Newbury, Newcastle, Newport, Nottingham, Oldham, Oxford, Pontefract, Preston, Reading, Redhill, Rochdale, Rochester, Rotherham, Runcorn, Sale, Sevenoaks, Sheffield, Shipley, Slough, Southampton, Southend-on-Sea, Stevenage, St Albans, Stafford, Stockport, Sunderland, Sutton Coldfield, Telford, Thame, Tonbridge, Tunbridge Wells, Walsall, Warrington, Watford, Welwyn Garden City, Weston-super-Mare, West Bromwich, Wigan, Windsor, Woking and Wolverhampton.