Who wants 4G? Not as many as you may think!
A new report from YouGov has found that as many of 44% of current smartphone owners have a handset that isn't compatible with 4G, while an additional 20% have a 4G compatible handset but are still only on 3G.
Adding it up that means 64% of UK smartphone users still have a 3G tariff, while only 36% have a 4G tariff. That might not sound too bad for a relatively new technology, but when you consider that 4G is now offered by every major network and a number of MVNO's and that some networks, such as Three and EE, include it as standard, it's a fairly low number.
It also found that the number of users who currently have a 3G tariff but would consider switching to 4G when their contract ends stands at 34% for those who only have a 3G compatible handset and 31% for those who have a 4G compatible phone.
In both cases it's a respectable number but they're simply considering it. The number of people who are actually very likely to move to 4G stands at just 18% for those with a 4G capable device and 8% for those with a 3G device.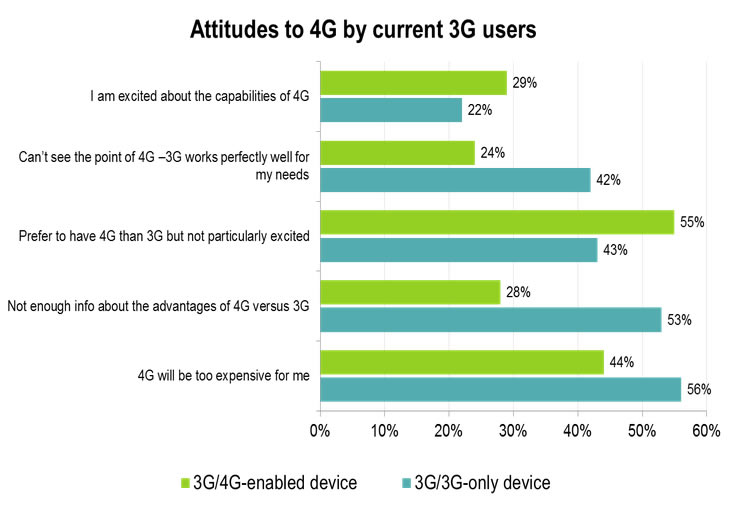 The biggest thing holding 4G back according to the report is a belief that it will be too expensive, with 44% of those with a 4G device (but on a 3G contract) and 56% of those with a 3G phone believing that to be the case.
But given that low cost networks such as Tesco Mobile and Three offer it and GiffGaff is trialling it, combined with the fact that it's come down in price anyway and now often costs no more than 3G we can't help but wonder if there's a misconception there and people simply assume that it will cost more or aren't aware of all the options.
If that is the case then it's clear that the networks need to do a better job of highlighting the price of 4G and its relative cost to 3G, but at least it's a problem that should be solvable. Another major issue that the report highlights is that while many users would prefer 4G (55% of those with 4G devices and 43% with 3G handsets), they're not particularly excited about the prospect.
This ties in to another key issue, the fact that, according to the report, many users believe there isn't enough information about the advantages of 4G over 3G. Which in other words means that many users probably aren't aware of the advantages and it's hard to get excited about something that you don't understand.
So it's clear that the networks need to do a better job of informing people about what 4G really means for them and how affordable it is as that's seemingly the main thing standing in the way of a faster uptake.
Sadly these findings largely mirror what was uncovered in last year's study, which we reported on at the time. So while 4G is getting better, more widespread and cheaper the information on it hasn't visibly improved.
Looking to find out more about 4G coverage and networks?