Make a fashion statement with Huawei's thin and stylish 4G mobile Wi-Fi device
We never really thought of a mobile Wi-Fi device as something that needed to be stylish, but apparently Huawei did if the Mobile WiFi Prime E5878 is anything to go by.
At just 7.5mm thick it's the slimmest mobile Wi-Fi device on the market and it's crafted from superior grade aluminium.
"Huawei Prime features a new minimalist design to make it the latest must-have fashion statement for style conscious young social networkers and tech lovers," according to Liang Qinghai, Senior Industrial Designer, Mobile Broadband and Home Devices, Huawei Consumer Business Group.
And really, who are we to argue? In fairness it does look stylish and it should be very portable too at 109.5 x 58mm.
But while Huawei seems bizarrely focused on its appearance it's the functionality which really counts and thankfully it shouldn't disappoint there either. It can connect to up to ten devices at once and has a range of 100 metres, while its dual antenna design ensures that signal is maintained even if you're holding the device and obscuring one of them.
It should be very fast too, as it supports 4G LTE Cat4 connectivity for speeds of up to 150Mbps, while its 1900 mAh battery can keep it going for up to 8 hours of use or 380 hours of standby time.
It should be simple to use as well, thanks to a 0.96 inch OLED screen, which displays how much data has been used, how many devices have been connected and how many text messages have been sent or received.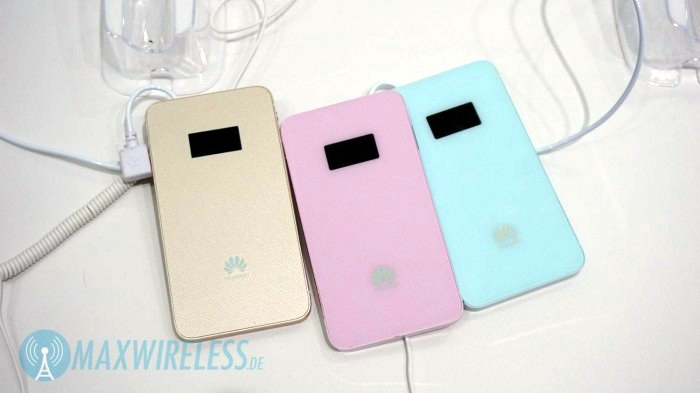 It's coming in white and black as well as sunny gold, peach pink and turquoise green and it should already be rolling out across Europe and the Middle East. There's no sign of it in the UK yet and no confirmed pricing but we'd expect to see it soon. More coming soon here.